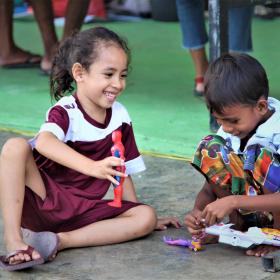 World Refugee Day - 20 June 2022
World Refugee Day is an international day designated by the United Nations to honour refugees around the globe. It falls each year on June 20 and celebrates the strength and courage of people who have been forced to flee their home country to escape conflict or persecution. World Refugee Day is an occasion to build empathy and understanding for their plight and to recognise their resilience in rebuilding their lives.
World Vision Education Pledge to the Global Refugee Forum
As World Vision shifts its focus to a greater emphasis on fragile contexts, the organisation is adapting the way it programmes and fundraises to meet the challenges of working with the most vulnerable, including children on the move. By 2023,  World Vision in at least 12 countries will:  
1. In line with government objectives, and reflecting the Nurturing Care Framework, enhance our ECDE programmes by learning from current implementation in fragile and humanitarian contexts to ensure children and caregivers access quality, family-centred, sustainable ECDE programming.  
2.  Provide quality PSS/MHPSS and referral with a focus on caregivers and children with disabilities.      
3. Involve children, parents and caregivers of host and refugee communities in design, implementation and assessment of all Education programmes, as well as in joint advocacy efforts.  
4. Ensure our Education programmes are fully integrated with child protection, protection, MHPSS and gender programming; and where possible, pilot cash-based approaches.  
5. Ensure our Education in Emergency programmes (formal and non-formal) align with INEE MS, CPMS, national standards, and fully support national system strengthening, focusing on sustainable refugee inclusion in quality education systems and within nationally accredited programmes. Children at the centre  
All our programmes take into consideration and focus on the specific needs of girls, boys, women, men, and of people with disabilities.   
Key Stories, Publications and Useful Resources are highlighted on this page! However, If you want to find out more about World Vision's work with refugees, education in emergencies etc - email: education@wvi.org
In partnership with UNICEF, World Vision in Lebanon is enhancing the access of vulnerable children to education opportunities. Out of school children are provided with non-formal education opportunities. Also, they are referred and integrated into the formal education system.
All Children Reading: A Grand Challenge for Development (ACR GCD)--a partnership between World Vision, USAID and the Australian Government--has tested, implemented and scaled education technology (EdTech) solutions and tools to increase literacy and access to education for children in low-resource contexts, including resources that specifically address educational and psychosocial needs of migrant and refugee children in emergency and crisis settings. 
Below are a few free tools developed with ACR GCD funding and support available for immediate use and easily accessed and used in homes or refugee camps with smartphones and in child friendly spaces, schools, reading camps and other group contexts through tablet lending libraries, smartphone projectors and other means:
 

Feed the Monster, Antura and the Letters,

and Sema: These smartphone apps, which help children learn foundational literacy and improve psychosocial well-being, were developed in response to the Syrian refugee crisis in 2016. Originally developed in English and Arabic, Feed the Monster was translated into an additional 48 languages by Curious Learning after adapting the open source code, which is available on GitHub. The app, available on Google Play, now has more than 511,000 users globally, according to Curious Learning's Follow the Learners dashboard. Antura and the Letters is a

vailable in Arabic (

Google Play

|

App Store

|

Windows

), French (

Google Play

|

App Store)

, English (

Google Play

| 

App Store

) and Darija (

Google Play

|

App Store

). Access Sema apps on Google Play and the App Store.
 

Graphogame

. A learning app, game and methodology for teaching early literacy to kindergarten and primary school children in multiple languages. Download in American and British English, Brazilian Portuguese, Spanish (Argentina, Bolivia, Chile, Colombia, Guatemala, Panama, Peru, Venezuela), Dutch, Pinyin and for residents of Jamaica and Guyana. Read an evaluation report about the GraphoGame Teacher Training Service project in Zambia.
Leveraging Technology for Education of Refugees and Internally Displaced Persons. A series of three modules providing guidelines and findings related to the innovative use of technology to expand education opportunities in various locations including Jordan, Kenya, Pakistan, Lebanon and South Sudan: Context for Leveraging ICT4E, Challenges and Opportunities, and Designing Effective ICT Initiatives
ver 50% are denied a place in school.
3.7 of the 7.1 million refugee children of school age denied a place in school