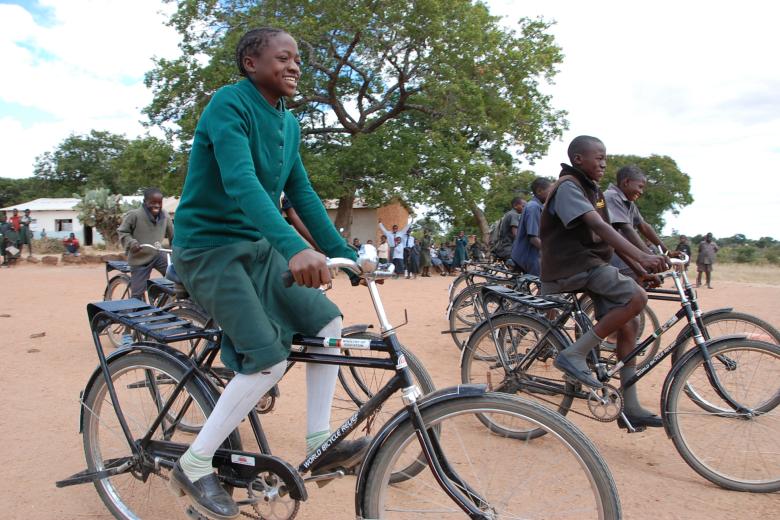 Government Applauds World Vision Zambia
Thursday, September 10, 2015
The Government of the Republic of Zambia (GRZ) has commended World Vision Zambia for continuing with the promotion of education of children especially in rural schools through the Bicycle Education Empowerment (BEEP) project.
North Western Province Permanent Secretary, Amos Malupenga said this in a speech read for him by the province's Deputy Permanent  Secretary during the BEEP project launch at Kisasa Primary School l in Musele ADP.
The partnership between World Vision Zambia and World Bicycle Relief through Ministry of Education Science, Vocational and Early Childhood Education was commended by government for promoting and improving education outcomes in rural schools of Zambia through the BEEP project. 
The partnership has delivered over thirty-six thousand bicycles to over hundred and twenty schools in Chongwe, Mumbwa, Masaiti, Mpika, Nakonde, Luampa/Kaoma, Chibombo, Nyimba, Mpongwe, Mafinga and Mpulungu Districts and has trained 470 bicycle field mechanics,'' he said.
Mr. Malupenga also said Government's aim was to continue helping learners covering long distances when going to school as it usually results in children being late to school, tired and usually unable to concentrate in class.
''Therefore as government recognise and appreciate such key successes and efforts made by our partners,'' he stated.
He stressed that government will continue to work with World Vision to promote the on-going education of the girl child and ensures that the future of our nation was promising.  
Malupenga also noted the many challenges teachers where facing due to staying long distances from the school and district resource centers to support their teaching. 
He further challenged Community supporters and teachers to be monitoring vulnerable pupils that do not attend school regularly and ensured them that they travel to their homes to check on the pupil's well-being.