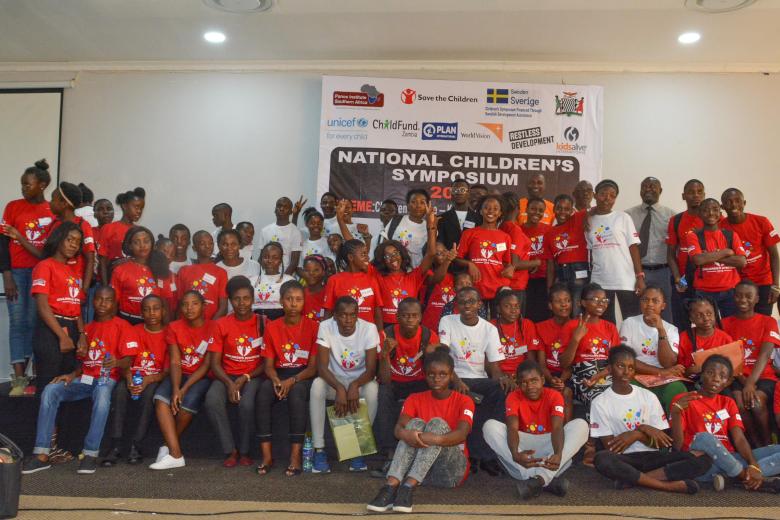 Historic Children Symposium successfully held in Zambia
Sunday, December 2, 2018
"Giving children a voice is critical as it promotes the right to participation in line with the provision on the rights of the child", Says Moses Mawere, Zambia's Minister of Youth, sports and Child Development.
Speaking at the first ever children symposium in Zambia aimed at advancing and protecting the rights of children the Youths Minister reaffirmed government commitment to child protection.
"Children should not just be seen as beneficiaries of development but rather as Active partners and agents of change. They know firsthand what issues affect them and how to implement solutions appropriate to their needs." He said.
Mr. Mawere said this in a speech read on his behalf by the Ministry's Permanent Secretary Joe Kapembwa during the opening of the symposium which fell on the same day as commemoration of the World Universal Children's Day.
World Vision Zambia and partner organizations staged the historic first ever children under the theme "Children's voice; key to sustainable development."
The children symposium which was held at Mulungushi conference centre provided space for the over 200 children from various parts of the country to engage with decision makers, journalists and other stakeholders.
The children took advantage of Zambian government officials present to discuss the child rights gaps identified by children in the provision of children's rights in education, health and social protection.
Asked on what government was doing to ensure that children are protected against violence such as child marriage. Mr. Mawere revealed that Government has established the Child Protection Unit to end child marriages by 2030, as well as implemented re-entry policy that allows girls who fall pregnant back in into school among others.
And speaking earlier on behalf of the consortium of NGOs, Save the Children Country Director Duncan Harvey urged the Zambian government to take concrete actions to mobilize sufficient resources to invest in children and ensure equitable allocation and effective utilization of resources.
Mr. Duncan said with the successfully hosting of the symposium it was hoped that this would turn into an annual event that provides space for children to voice their concerns.