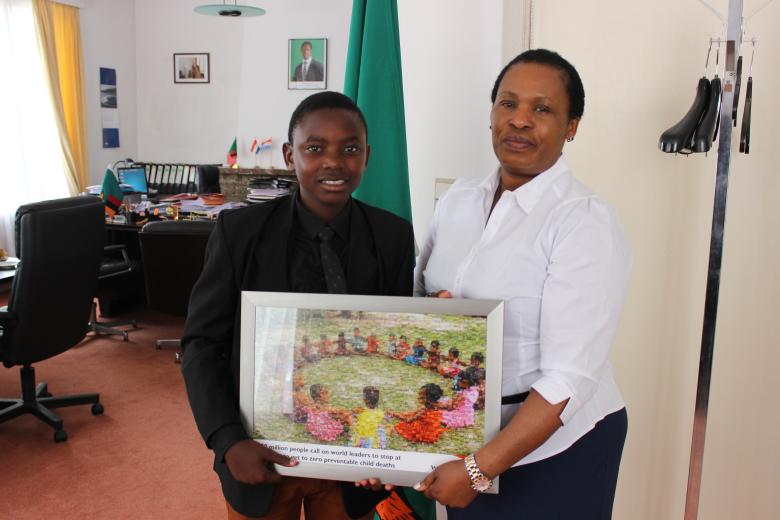 Zambia's Ambassador to the European Union in Belgium Applauds World Vision
Tuesday, June 9, 2015
The Zambian Ambassador  to Brussels Mrs Grace Kabwe  has commended World Vision for the transformational programmes scaled throughout the country.
Speaking when the 14-year-old Maruba Libani from Lufwanyama called on her in the wake of addressing the UN conference, Mrs Kabwe described World Vision as one of the top non-governmental organisations that has been involved in  lifting the lives of the vulnerable masses.
"May I commend World Vision Zambia for the good works they have exhibited in our country. I am coming from a banking background where I worked with City Bank and World Vision was one of our reputable NGOs in banking with our institution," she said. "I can confirm that by then, I remember very well World Vision did very well in Water and Sanitation, Education, Health and HIV and AIDS, food security projects to mention but a few. This helped in supplementing the government's efforts in improving the welfare of children and their families."
Mrs Kabwe said it was impressive that World Vision's advocacy interventions include projects that create a platform where children like Maruba  exercise their rights in decision making. 
''These children are vulnerable, hence, they need to be protected at all times and they should also participate in decision making in issues which affect their wellbeing," said Mrs Kabwe.
And Executive Director for World Vision in Belgium Mr Marius Wander who accompanied Maruba said every year, 6.3 million children lose their lives to preventable causes such as pneumonia, diarrhoea and under nutrition as a result of lacking political will and action by the relevant authorities. 
"This is the foundation of the World Vision's child health now campaign through combined international action from the corridors of the power to the communities in which we work.
 Mr Wanders said it is for this reason that World Vision aims to shift the global political and health agenda in order to save the lives of millions of children. 
Meanwhile Maruba who presented the Ambassador with a gift bearing Vision Mosaic picture with information of the Child Health Now Campaign  said it was a blessing to be the one sent by World Vision to attend events organised by European Union, European Commission and United Nations in Belgium.