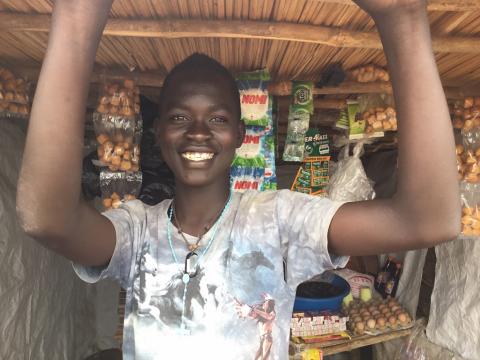 Young South Sudanese entrepreneurs rise from the refugee settlements
Wednesday, July 5, 2017
He escaped to Uganda from South Sudan with his mother and five siblings. At 18, Lucky Jackson became a breadwinner when his father died during an attack by armed men. The family found refuge in Bidibidi settlement.
With no idea how to earn an income and support his family, Jackson had to scratch his head as he took the role left behind by his father. He says, "We badly needed money to sustain our needs. Aside from the food and other items given to us, we still lacked some basic needs. All of them depended on me for a solution."
"I applied and was hired by a local non-governmental organization and when I got my first salary, I set up a grocery shop with an investment of UGX100,000 (USD$28). My contract lasted for four months and when it ended I begun operating the shop'', Jackson adds.
In his shop, Jackson sells snacks, candies, some refreshments and household items. He buys his merchandise from the nearby market and sells to refugees inside the settlement.
"The income augmented our monthly food rations. With the little savings we make, we were able to buy additional food. We also bought some seeds and set up a garden around our home. It provides us vegetables to eat and we sell the rest", he says.
Jackson is not alone. Alex Lado, his 19-year old neighbor, lost both his parents to the conflict. He came to Uganda with his seven siblings he now have to raise alone. "Life was extremely hard when we got here. Luckily, I have some money and when we got here, I used it to start business with UGX80, 000 (USD$22)", Alex shares.  
He adds, "The profit is small but am able to buy my siblings their most important needs such as sanitary pads, slippers and clothes." 28-year-old Kemis Banga also joined Jackson and Alex among resourceful entrepreneurs who are helping themselves rise from their situation. 
Kemis decided to buy and sell fresh vegetables. His grocery shop is full of fresh cabbages, onions and potatoes. Kemis says he grows some of the onions he sells while the rest of the merchandise he buys from the local market.
"In South Sudan I was in senior four, but when I got here, I have to stop going to school. My mother got me some money and we set up this business. It took us around UGX 500,000 (USD$138) because vegetables are expensive. Every day am able to make a profit of at least UGX20, 000 (USD$6)", Kemis says.
With this profit Kemis tells me the family has been able to enrol two of his siblings at a local secondary school. They are also able to buy basic scholastic materials and pay schools fees.
Along with close to 770,000 refugees in various settlements, Jackson, Kemis and Lucky's families received monthly food ration from World Vision's food food distribution program in partnership with the World Food Program (WFP).
World Vision's West Nile Refugee Response Director Judy Moore, said implementing agencies like World Vision need to put special focus on building the self-reliance and resilience of refugees and host communities.  "World Vision's long term relief and response efforts are not only targeting refugees, but also the host communities, proactively linking response, resilience, and development activities leading to improved social cohesion."