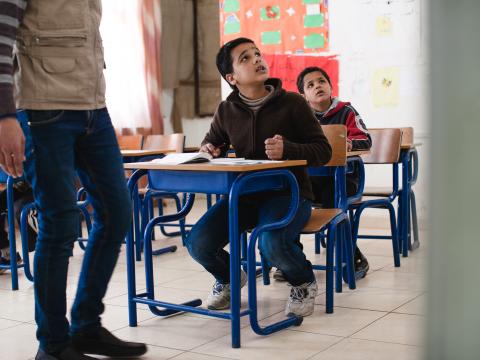 'There is no choice. I must bring money'
Monday, March 7, 2016
Twelve-year-old Radwan's family fled its home in Daraa, Syria, three years ago. Unable to work in Jordan, his father returned to Syria in 2014 and was killed in August 2015. His mother is ill with diabetes and unable to afford medicine.
VIDEO: Watch how a World Vision education programme is helping Radwan start learning again
Radwan works long hours as a day labourer on construction sites in Irbid to buy vegetables for his family and pay the rent on their small apartment. It is backbreaking work. 'I make the cement in a bucket and then go fetch the blocks. There is no choice. I must bring money. This is the only way.' Until January 2016, Radwan had not stepped foot in a classroom for more than four years. Now, he is one of almost 1,000 Syrian and Jordanian children taking part in a remedial education programme run by World Vision in Jordan.
New Report: The cost of conflict for children: Five years of the Syrian Crisis 
It's not a perfect solution by any means. These are catch-up lessons, just four hours long, not the comprehensive education Radwan, and children like him, deserve. 'I want to learn to read and write properly, so I can teach other children. I'd like to be a teacher if I am able.'
Between work, school and caring for his mother and younger siblings, Radwan has little time left to be a child. 'I am always tired. I wish to have a normal life without problems.' In addition to the remedial education programme, World Vision also runs a No Lost Generation programme in schools throughout Jordan. The classes serve more than 2,000 students.