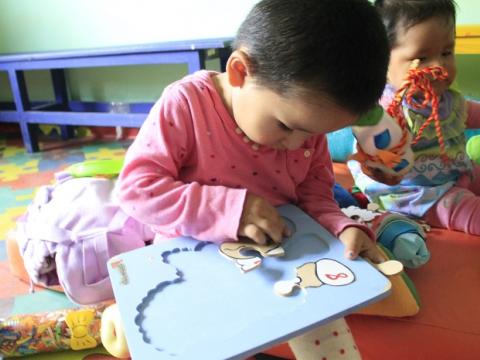 Bolivian education centre aids young child development
Wednesday, October 7, 2015
In the north east of the La Paz Department in Bolivia, surrounded by mountains and humid forest, is the community of Mururata. This village is home to a number of families whose ancestors come from different cultures – Afrobolivians and Aymaras – but have merged into a community that works together. For these families, the most important economic activities are production of different foods, transportation or construction.
Eighteen months ago, a group of mothers advocated for the need to create a space for children under six years old to learn and develop. With the support of the Municipality and World Vision, the Familiar Integral Early Education Centre was created.
Mrs. Aidé sharing with her two children, Emily (3) and Kimberly (2) at the early stimulation centre in the community. Parents participate actively in the development of their children. (Photo credit: Andrea Cabrera/ World Vision)
"Before we used the community social centre to have our meetings, but the place was not the best for children," says Mrs. Durba, leader of this process and community educator. "Later the school finally designated us a classroom." With the support of the Municipal Government and World Vision, the space was repaired and painted. Furniture was purchased and added along with games and didactic material for children.
Around 15 children participate in this centre. They are part of the 1,860 children from zero to six years old who are beneficiaries of the Abilities for Life project in the country.
Three-year-old Emily is one of the members. She and her mother Aidé, 23, come to the centre every two weeks. "During a meeting, we were invited to participate in the centre," says Aidé."They told us that children would learn to share with others. That caught my attention because my Emily was very shy and she didn't want to play with other children. She hid and didn't want to lend her toys. She used to have difficulty communicating her feelings and needs. But today she has changed a lot. She is very expressive. She likes to dance, sing and lead other children during activities. She lends her toys and likes to spend time with other children. Now my two-year-old, Kimberly, is participating too."
Mrs. Janet Quispe is a teacher in primary school. She and many of her colleagues recieve trainings on "Skills for life" that can be applied at school and motivate children. (Photo credit: Andrea Cabrera/ World Vision)
The Centres of Early Stimulation are playful educational spaces in which mothers, fathers, grandparents, primary caregivers and children meet at least twice a month for three hours with the support of a teacher, community organiser, or volunteers with experience in the care of children less than six years old. During educational sessions moments of free play and recreational activities are established. These include motor and sensory activities like songs, nursery rhymes, storybook reading, theater, puppets, painting and drawing.
"We know these centres will help children be prepared during all their education and in their careers," says Mrs. Durba.  
"We have learned different exercises to develop skills in children and to stimulate them," says Mrs. Durba. "We have also talked about their nutrition and health. We have learned to elaborate with different materials and didactic toys for them to play with here in the centre and also at home."
The project has provided training not only for parents but also for teachers. The teachers were equipped with materials to implement at school, which include dynamism in class and helping children find their skills. "In our classrooms we had children who didn't participate in the initial level at primary school, so they had evident difficulties learning to write and read. But, with the exercises we learned at the trainings, many of them are improving their skills," says Mrs. Janet, one of the centre's teachers.
"We want to cover a bigger area and we hope that every community in this region counts with a center to help parents and especially to help children," says Mrs. Durba.
Related links: