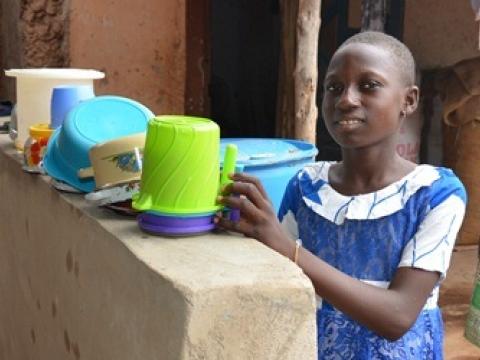 The difference Raya & Elmo made in my life
Tuesday, May 9, 2017
Sherifa is a nine (9) year old primary 4 pupil in Dingoni primary school in the Dingoni community, of the Savelugu Nanton municipal district. As the only child who lives with both parents, Sherifa was all smiles when she spoke about the benefits of the WASH Up! initiative. She said, she always sings the hand washing songs which reminds her of washing her hands with soap under running water. "I taught my friends how to sing the song and practice good hygiene, like washing the bowls right after eating and not walking bare footed."
On weekends, Sherifa and her friends educate other children in the community. As children, they monitor each other's gallons to make sure there's enough water in it and soap is made available at each of the stations.  "We laugh at children who do not have water in their gallons" she says giggling.
Muneratu, Sherifa's mother said, her daughter has adopted new personal hygiene practices. She said, hitherto, Sherifa hardly washed her hands unless she was told to, but now, she washes her hands with soap under running water before eating and after using the toilet facility. "She even remembers to brush her teeth and always washes the bowls at home. I am happy that Sherifa has taken up the responsibility to teach other children about hand washing and personal hygiene." Muneratu confirms.
As an active person in her class, Sherifa is one of the best students who have completed all the training sessions and is now a WASH superstar, helping to educate other children in her school and community.
The WASH Up! pilot programme, reached about 1000 school children such as Sherifa and her friends in 25 schools within the Savelugu Nanton municipal district. 50 teachers now have the capacity in WASH Up! facilitation, where children are happy to serve as change agents. As children continue to demonstrate proper hand washing practices and serve as change agents in their communities and schools, diarrhea, a preventable disease is reducing. As a WASH star, Sherifa is willing to share her acquired skills and knowledge on good hand washing practices with friends and family.
 The WASH UP! initiative aims to reduce the number of children under the age of five who are dying or suffering from preventable and treatable diseases by providing access to meaningful sanitation and hygiene education. The Sesame Muppets (Raya & Elmo) have the unique ability to talk to children, model behaviours for them, and give them the language to talk about taboo topics like toilet use. Raya pioneers conversations all over the world about clean water, hand washing with soap, and proper latrine use through three easy-to-share reminders that they can teach to family, siblings, and friends:
Wash hands with soap before meals and after using the toilet.
Use safe toilets to defecate, and wear sandals to the toilet.
Drink clean water to stay hydrated and healthy.
To deliver an effective programme with maximum reach, the WASH Up! initiative utilises School and community-based health kits, Floor mat games (to promote discussion around familiar places, people, and things that contribute to being healthy and happy), Video content – featuring Raya and Elmo, as well as children in communities where WASH challenges are part of everyday life.
Dingoni primary school has a WASH facility however, hand washing facilities were inadequate and hand washing behaviours were hardly practiced. It was based on these baseline facts that Dingoni primary school was chosen to participate in the Sesame WASH Up! programme. As beneficiaries, Sherifa and her family expressed their sincere gratitude to the Sesame WASP Up! team with a superstar promise; "I promise to teach! teach! teach! my friends about WASH. Thank you, World Vision for coming to our community."