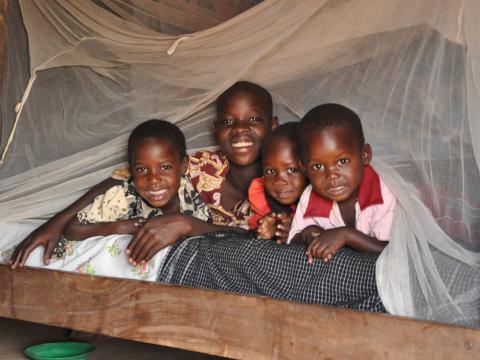 In Eastern Uganda, Mothers Are Optimistic Malaria is Going
Monday, May 20, 2013
The sun is shining brightly this Saturday morning in Soroti district after a cold and wet night. Children of different ages play about as adults indulge in conversation at Nakatunya Primary School grounds in Soroti Municipality. 
Today's gathering seems unique; there is good representation of both women and men. Village Health Team members, commonly known as VHTs, are busy as they review documents on which names of the people in their villages have been printed.
After two hours of waiting, the faces of the almost tired crowd lighten up as the Police and district health team officials arrive with loads of well-packaged white plastic bags.
"The nets are here!" one woman in the crowd exclaims to another as the men carrying the bags make their way to the distribution point.  
"Today the President's promise is going to be fulfilled," adds another.
Waiting for nets
Today is a memorable day for the people in Soroti who are receiving free long-lasting insecticide-treated nets (LLITNs) which, if correctly used, will reduce malaria infections in the district.
Twenty-year-old Goretti-Kate Apio, a housewife and mother to six-month-old Sam Ediuw, is one of the beneficiaries of the mosquito nets being distributed. According to the register, she will receive two mosquito nets; one for her son and another for her and her husband.
During the rainy season her environment exposes her to mosquitoes, particularly the female anopheles mosquito, which spreads malaria. 
"My home is in a low land with many ponds that get filled with stagnant water. I have been told these are breeding grounds for the mosquitoes that bite us at night," she says.
Scovia Akite, a VHT member, is taking lead in the distribution today. As a health educator and home visitor, Scovia is optimistic that malaria cases will reduce in her village because "the nets being provided today are not only free but stronger compared to the ones sold in town."
However, this is not the first time Goretti is going to receive a mosquito net. When she was pregnant with Sam, she received a net during one of the antenatal visits to the health center but it has since developed holes through which mosquitoes pass.
No nets mean frequent visits to health centre
As a result, she has had frequent visits to health centres for malaria treatment. "Two weeks ago, Sam came down with a fever. When I took him to the health centre, he was diagnosed with malaria and treated," she says.
She hopes that with the newer and treated mosquito nets her family will be protected from malaria.
The Centre for Disease Control and Prevention defines malaria as a fatal blood disease caused by a parasite that is transmitted to human and animal hosts by the Anopheles infected mosquito. The human parasite, Plasmodium falciparum, is dangerous not only because it digests the red blood cells' hemoglobin, but also because it changes the adhesive properties of the cell it inhabits.
In Africa, Uganda ranks third in the number of deaths attributable to malaria and has some of the highest recorded malaria transmission rates.  
95% of Ugandans are affected by malaria
According to reports from the Ministry of Health, malaria is endemic in 95% of Uganda's population, with nearly half of hospital in-patient deaths among children less than five years attributed to clinical malaria. It accounts for 70,000-110,000 child deaths annually in Uganda, accounting for 40% of Ugandan public health expenditure, 30-50% of inpatient admissions, and up to 50% of outpatient visits in areas with high malaria transmission.
Despite the alarming statistics, the Government, with support from health-focused stakeholders, has not given up on the fight against malaria. According to the 2011 Demographic Household Survey, "Use of insecticide-treated nets has increased dramatically in Uganda during the past five years: 35 percent of the household population, 43 percent of children under age five, and 47 percent of pregnant women slept under one, the night before the survey."
On 10th May 2013, President Yoweri Kaguta Museveni launched the national LLITNs universal coverage campaign in which 21 million LLITNs will be distributed countrywide starting with Soroti district.
World Vision Uganda, DFID and the Global Fund donated 500,000, five million and 15.5 million nets respectively.
Nets donated by World Vision
During the launch, Gilbert Kamanga, WVU's National Director, said joint efforts by civil society organisations are needed to combat malaria for the future of Uganda's children.
The nets donated by World Vision Uganda were procured with support from World Vision USA under the For Every Child campaign that is aligned to the Child Health Now (CHN) campaign in Uganda. The CHN campaign is contributing to the reduction of preventable deaths among children under five years of age, which deaths are caused by diseases such as malaria.