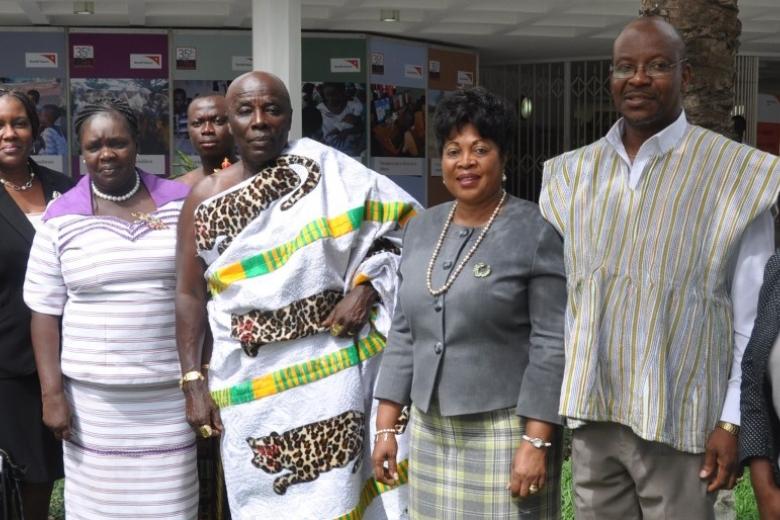 Ghana Launches "Improved Sanitation Now Campaign"
Tuesday, February 24, 2015
Written by: Marian Roberts
World Vision Ghana in collaboration with the Ministry of Local Government and Rural Development held a 35th Anniversary Public Lecture on Tuesday, November 18, 2014 at the British Council Auditorium, Accra.
 The theme was "Addressing the Sanitation Challenge in Ghana: Defining the Future", the public lecture was held to highlight the urgency of addressing sanitation challenges in Ghana and Africa as a whole.  It was also a platform for Water Sanitation and Hygiene (WASH) to officially launch the "Improved Sanitation Now Campaign."
The event attracted approximately 250 participants and high profile dignitaries including members of the Advisory Council, The Okyehene, His Royal Majesty Osagyefo Amoatia Ofori Panin, Hon. Julius Debrah, the Minister for Local Government and Rural Development, the Vice Chancellor of The University of Energy and Natural Resources, Professor(Mrs.) Esi Awuah, and government representatives.
The National Director, Hubert Charles in his welcome statement spoke on the goal of the campaign and stressed the desire of WV to work with the Government, particularly the Ministry of Local Government and Rural Development and allied agencies to improve the sanitation situation in Ghana. He emphasized the need for all (government and WASH organizations) involved to prioritize sanitation and build strong partnership to tackle the sanitation crisis.
In his remarks, Chairman of the programme, HRM Osagyefo Amoatia Ofori Panin advocated for the decentralization of sanitation management to communities to ensure proper sanitation for socioeconomic development. He said "communities must have ownership. If you own it, you protect it. If you own it, you take care of it. Giving communities ownership and responsibility to address their own sanitation could be a good way to combat poor sanitation because when people feel a sense of ownership over something, they take care of it, protect it and are more accountable." Hon. Julius Debrah, Minister of Local Government and Rural Development, mentioned that no country could thrive without overcoming its sanitation problems. He professed his support for a nationalistic approach in dealing with the sanitation problem Ghana is experiencing Hon. Debrah pledged his Ministry's willingness to work with World Vision and like-minded institutions in a concerted manner to address the sanitation challenges.
Mr. Attah Arhin, WASH Manager stated the objectives of the campaign as follows; increase WVG's contribution to WASH interventions, provide stakeholders with solutions on how to address the sanitation situation in the country through the campaign outcomes, get support from policy and decision makers in the implementation of the campaign, mobilize civil societies and other coalitions as allies to influence decision making processes. Others are, increase prioritization and investment for sanitation and hygiene, increase community capacity to manage sanitation and increased advocacy, research and policy dialogue, Mr. Arhin, entreated all stake holders to come on board and pledge their commitment to making the country free from filth.