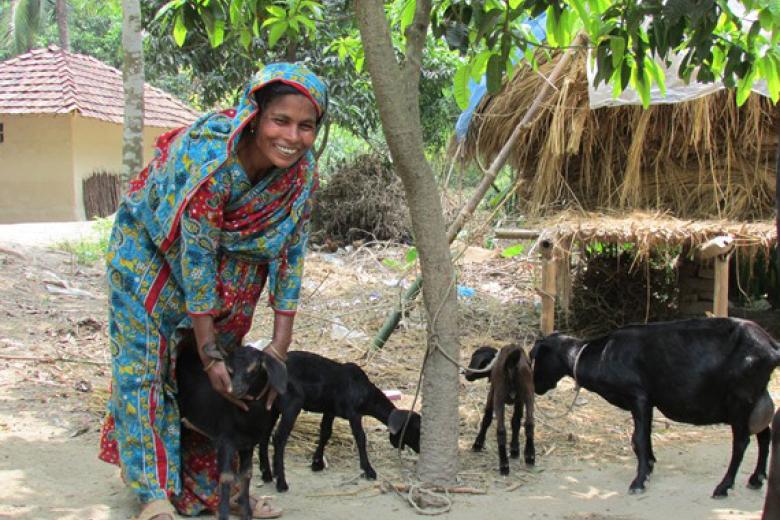 Goat farming strengthens Morjina's purchase capacity
Tuesday, February 16, 2016
Morjina Khatun, 38, lives with her husband and three girls in a village under the Southern Bangladesh district of Satkhira.
"Goats are our cows," says Morjina, refering to cows being a "living savings account."
As her goat farm gets larger and more profitable, it supplements the family income, along with their other products like rice, vegetables, and domestic birds.
Since their marriage in 1994, both Morjina and Nasir Sarder, 50, have been working as day laborers on farms.
"My husband's work is quiet laborious as he used to dig soil, load small trucks, and drive to kilns, a few miles away- earning just 150 taka ($1.90 USD) per day," says Morjina. They lived with barely enough money for immediate needs. Their wages were irregular and they were hungry when Nasir could not work on rainy days. Morjina used to weed on crop farms, earning 75 taka ($1 USD) a day.
"We started share cropping that produced food for six months for our family of five," describes Morjina, "We produced rice for food and jute fiber and vegetables as cash crop."
To supplement more income and ensure food, Morjina started vegetable farming, raising domestic birds and rearing milking cows but received poor returns as she lacked skills and business orientation.
"Hosneara, 20, our older girl dropped out of school. There was one less mouth to feed when Hosneara was married to a local farmer," narrates Morjina. She fought to keep her other two girls in school. She borrowed money from micro-loan operators, but had shocking experiences on payback loans, as she could never invest the money for profitable business.
Morjina had a chance to attend an anti-trafficking awareness program organized by World Vision's Child Safety Net Project in her community and she shared her need of financial support to continue schooling her girls. Helping to strengthen her purchase capacity, World Vision provided Morjina training on goat rearing and in May 2013, awarded her two young goats to start her goat farm.
From the training, Morjina learned to identify goat species, about proper feeding, cage management, health care, and disease control. The training also enabled Morjina to build rapport with the government livestock officials and availed treatment services for goats, for free. She invested her time, skills and labor on goat farming and the population of goats increased rapidly.
"Aiming to expand the farm, we sold eleven goats for 23000 taka ($299) and bought a milking cow with a calf," she says.
Besides feeding her girls cow-milk, Morjina made money from selling extra milk, that allowed her to buy school books and stationeries for her girls.
Morjina raised chickens, ducks and geese for nutrition and food. She hatches and multiplies ducks and chickens in an old-fashioned way.
As their farm grew larger, they are able to grown enough food and provide for their daughter's education. Neighbors are replicating Morjina's goat and vegetable farming.
Her two daughers, Jesmin,16, and Tazmin, 12, are in good health, attending school, and brilliantly progressing. Jesmin dreams to be a nurse and Tazmin a teacher.
Story and Photo by: George Sarkar