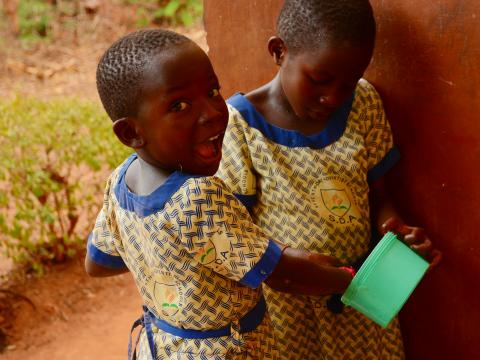 A Mother's Testimony on Exclusive Breastfeeding
Friday, April 1, 2016
Written by: Marian Roberts
Nkwankwanua is a small farming community within the Sekyere East District in the Ashanti Region where most of the residents engage in cocoa and crop farming.  "Asante Twi" is the native language mainly spoken by the people.
Before the year 2005, women did not know how to give their newborn babies the needed attention in order to enable them grow and live healthy lives. Nursing mothers neither practice exclusive breastfeeding nor provide nutritious food for their children.
However, through World Vision's health interventions, a Mother to Mother Support Group (MTMSG) was formed in 2005 to educate women on maternal and neonatal issues.
Abena Achiaa, a petty trader and mother of six, recalled she gave birth to three of her children before joining the MTMSG and had three children afterwards including twins. According to her, before joining the group (MTMSG), she never had ante-natal care services and did not observe exclusive breast feeding for her first three children. But her story changed after she joined the MTMSG. She has had the opportunity to learn a lot on motherhood and can attest to that as her younger children are healthier.
 "Before I joined the MTMSG, I did not really care about any of my children after giving birth. I gave water to my first three children who are now leaving with my sister in the city but after I joined the group and had my last three children, I observed the six months exclusive breast feeding and I can see the difference. My last three children are very intelligent in school and never get sick. Due to the sensitization I have gotten from the group, I am now so concerned about the needs of my children - their feeding and schooling. I want them to become good and healthy adults", Abena Achiaa said.
According to Abena, she learned how to breastfeed her twins simultaneously when they were babies through the MTMSG. She confirmed the twins, Regina Omane Panyin and Regina Omane Kakra, who are now seven years old and in Primary one, are very healthy and perform well in school.
"World Vision has taught us hand washing and so as a mother, and I have since been observing hand washing and cleanliness which has helped me and my family to prevent diseases. We have been taught to eat clean food and also register our children on the health insurance scheme so we can access health care. Although, the upkeep of children becomes difficult sometimes, because I am single parent, I can say we are healthy and so I am able to cater for their school needs with the little that I make from my trading", Abena Achiaa noted.
Meanwhile, Panyin and Kakra who play with their little brother and run errands for their mother and grandmother at home when not in school said they wanted to be a nurse and a doctor respectively when they grow up.