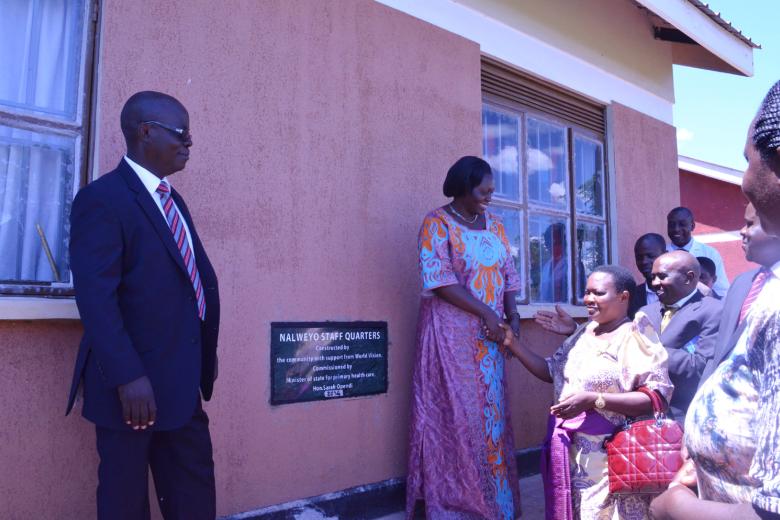 New infrastructure improves Kibaale's health sector efficiency
Wednesday, May 28, 2014
By Flavia Lanyero
Goretti Aijuka, an enrolled nurse at Nalweyo Health Centre III (HCIII) used to walk for at least 15 minutes from her house to the health centre. And when it rained, it meant she would not get to the health centre until the rain stopped.
"This meant that patients would have accumulated and they would wait for long hours before they are attended to," says Aijuka.
Nalweyo Health Centre III serves over seven parishes in Kibaale district including Masaka, Ndongo, Buruuko, Kirisa, Kijwenge, Kyabeya and Kasiita. The health centre on average receives between 50- 100 patients daily. This means that health workers should be at the health centre at the earliest time in order to serve as many patients.
Unfortunately for Nalweyo this was not the case as it only had 14 staff out of the 20 needed and the staff lived a distance away from the health centre. The Health Centre offers Outpatient services including diagnosis and treatment, immunization, family planning and antenatal care and deliveries. The commonest diseases here are malaria, respiratory tract infections
Following various programme interventions by World Vision in this area, a lot has changed not only at Nalweyo Health Centre III but in the entire Kibaale district. World Vision has constructed two staff quarters four units each, housing eight staff in Naweyo and Kissita. 14 VIP- Latrines with an average of each 5 stances have also been constructed in addition to four wards in Kakindo, Igayaza, Kasambya and Kisiita. Bore Holes: 62, Shallow Wells: 41, Spring Wells 18, Water tanks: 370.
"With World Vision intervention in building staff quarters, staff are able to offer services more efficiently and effectively since they live within the health centre. We have also received various support for immunization and voluntary health workers and now communities are able to get services," say Dr Enock Sanyu Alibankoha, the clinical officer at Nalweyo HCIII.
World Vision interventions are reaching an estimated 250,000 people mainly in Bugangaizi County which is a third of Kibaale's total population estimated at 717,700 according to Kibaale District Local Government Planning Unit Statistics 2013. The population also consists of 12,000 registered children that World Vision is directly supporting under the sponsorship sector.
Gilbert Kamanga the National Director for World Vision Uganda says that the organisation wants to continue cooperation with other Civil Society Organisations to address issues affecting child well being and eradication of poverty.