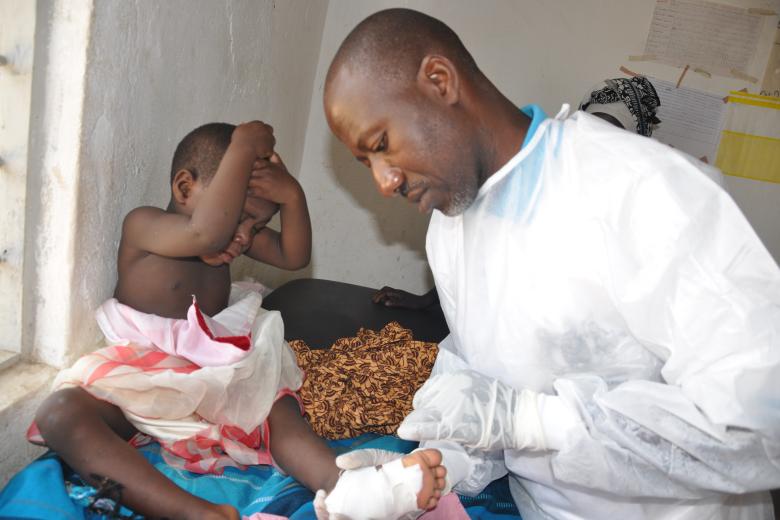 Ntandi Health Centre III equipped for minor surgeries
Tuesday, May 27, 2014
By Simon Peter Esaku
On February 27, 2014, four year-old Makiline Mbambu slept peacefully because the puss that had caused pain and swelling under her left foot has been rid off. The minor surgery took place at Ntandi Health Centre III 350 km west of Kampala. There Thomas Sunday the Senior Clinical Officer pricked the foot, squeezed out the puss, cleaned, treated and dressed the wound.
Her mother- Mary Kyakimwa, 40, sat on the surgical bed bundling Makiline onto her lap. Makiline kicked and cried. It was more-or-less like the surgery going through her than her going through the surgery. It was painful but it paid off.
"For the last two weeks, Makiline never had good sleep at night and could not walk in the day with her left leg except on the toe," Mary says at health centre. Makiline could not even do what she liked to do most at home- boil sand and grass in cans like she was cooking rice and vegetables. Two days before the surgery, she had an "unhappy birthday" rather than a "happy birthday."
Makiline's tribulations started mid January 2014 when she stepped on a sharp stick which pricked her left foot while playing at home in Mpulya village in Kasitu sub-county, Bundibugyo district in western Uganda. "After two weeks puss came out and the wound seemed to heal," Makiline's mother says.
"But after some days the spot started to swell and the pain again came back," Makiline says amidst pain. Her mother took her to Ntandi Health Centre III within World Vision US supported Kasitu Area Development Programme.
The government facility which offers free treatment usually lacks drugs and medical equipment. This time Makiline was lucky because the health facility had just received a donation of generic surgical equipment from World Vision US the week before.
As Mary sat on the surgical bed holding poor Makiline tightly, Thomas quickly jumped into his surgical gown and pushed on a pair of gloves before approaching a suspiciously scared looking Makiline. Thomas spread the drapes under Makiline's left foot and cleaned the wound.
He fixed a needle on a syringe and pricked the painful spot for signs of puss and when it came out, he cut the spot with a surgical blade. More puss came out, draining into a kidney dish but Thomas squeezed a little more until some blood also came out. Thomas then cleaned the wound, applied medicine and secured cotton and a gauze pad using strips of plaster.
"The surgical gown, gloves, drapes, needle, syringe, surgical blade, kidney dish, gauze pad and plaster were all part of a consignment that World Vision donated to our health centre," says Thomas Sunday who is also the In-charge of the facility.
The laboratory technician- Jellence Kipurah is also using specimen bags World Vision donated besides the gloves, needles, syringes, waste containers and trash bags. 
"World Vision donated 62 different items including stethoscopes, manual resuscitators, surgical masks, scrub sponges, forceps, dressing sponges and bed pans," lists Peter Mundua- the Gift-in-Kind Manager at World Vision Uganda. In 2013, World Vision helped the community construct a building housing admission wards, maternity wards, laboratory and offices.
"We are grateful to World Vision for the donation of the surgical items. For us we don't request from the government, we only get what it decides," Thomas expresses his gratitude. "We are happy to have these gowns. They make us enjoy our work. It kind of motivates us and protects us. We can go and do a postmortem because we feel we are protected with the gown, masks and caps," he continues. "Without protection health workers are scared of working on patients," he says.
Thomas adds, "In the past when we are doing incision like the one I did on Makiline, we used to send the patients to buy materials such as gloves, gauze, cotton and plaster. Our communities are poor." He says patients want to go to a health centre with drugs and utilities that's why they receive at least 30 patients a day when there is nothing to 100 where there are drugs and utilities.
"I am happy to receive the World Vision donation. When you are not protected with gloves and you are holding a bottle of urine, stool or sputum specimen or bleeding an HIV positive patient, you stand a high risk of infection," Jellence explains.
He demonstrates how, without the specimen bags he used to stash bottles with specimens into gloves for sending to Entebbe Virus Research Institute near Kampala.  "We are now offering better services. So far I have done 48 tests today, by the end of the day I will have done 80 to 100," he says. Before the donation, he used to do from 10 to 15 tests a day. He used to send patients to buy gloves.
Mary too is happy. "I thank World Vision for the donation of the surgical items used on my daughter," she says, carrying a sleeping Makiline in her lap outside the surgical room. "I would have had to take to Bundibugyo Hospital forty kilometres away, pay transport and spend a couple of days there," she adds. For Makiline, the surgical pain of has paid off. She will sleep soundly again tonight and after a few days play, run around home and cook her "rice" and 'vegetables" again.