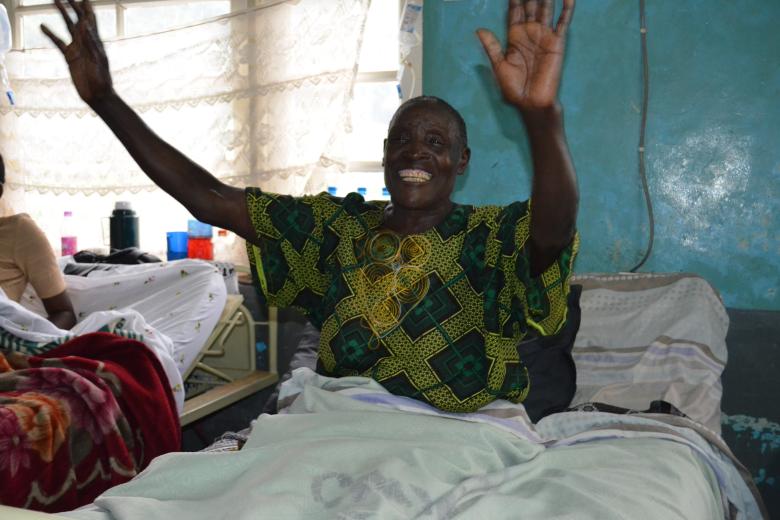 Patients receive free fistula surgery in western Uganda
Friday, June 27, 2014
By Flavia Lanyero
Kelen Mugoha couldn't stop singing and praising God when World Vision and Barclays Bank staff visited her at Kisiizi Hospital in Rukungiri district.
With her hands raised up in the air and a hearty smile, Ms Mugoha is thankful for the fistula repair/ surgery that she had just undergone a few days back. The joy in her heart quickly spread in Kisiizi Hospital Chapel (now turned fistula ward) like wild fire and soon every patient was singing and praising.
Quietly later, 70 years Ms Mugoha narrates how she has lived with fistula for 50 years.
Fistula is a condition that results from maternal injury during child birth where a hole or abnormal opening in the birth canal results in chronic leakage of urine, feces or both. Women are left smelling and social misfits.
"I got fistula when I was giving birth to my first child about fifty years ago. I was twenty years myself. I have not been at peace since then, the pain I feel is too much and I have to pad myself all the time," Ms Mugoha says.
"Because I was leaking urine, I felt very ashamed and embarrassed. I even told my husband to get another woman with whom he is now living with," Ms Mugoha says adding that she stayed in this condition because she could not afford a repair which costs $180 (Shs450,000) per person.
And such is the tale of thousands of women in Uganda who are suffering from the fistula condition but are ignorant about available services and even when they are aware, they cannot afford the rather expensive surgery.
The Ministry of Health estimates that there are about 200,000 women suffering from fistula in the country. And for every woman who dies during childbirth, 20 to 30 survive with complications, including fistula while in most cases the baby dies.
The dilemma is that of the 200,000 women suffering from the condition, the ministry can only carry out surgery on 2,000 women annually, leaving the bigger majority to endure daily urine and fecal leakage some, for the rest of their lives.
Starting 16th - 27th –June- 2014 Barclays Bank in partnership with World Vision undertook to repair fistula among women in Kisiizi Hospital Rukungiri district and the neigbouring districts free of charge.
Following sensitization in radio stations and community mobilization, over 200 mothers turned up for the surgery, 92 of whom needed immediate repair. With funding from Barclays Bank for 50 women and World Vision for the remaining 42, the two organizations have sponsored repairs for all the 92 women.
"Starting last year, Barclays Bank merged with Absa to put talent in a Pan African graduates development programme. We in the 2013 class then challenged ourselves to do something that would be of use to the community and that is how we zeroed on mobilizing money for the fistula camp," said Mr Samuel Kiyaga, the Barclays Bank products manager.
"We hope these women will be able to recover and go back to their former lives and continue making an impact in the lives of children," Mr Kiyaga said.
Geoffrey Babughirana, the World Vision Maternal and Child Health specialist said that obstetric fistula results from prolonged labour which usually stems from women's failure or refusal to give birth from a hospital. He says that especially in the western region, mothers still prefer to give birth under the care of a traditional birth attendant and when the delivery does not go well, the mother either dies or develops a fistula. He called for sensitization of women to give birth at health centres and also to seek treatment for fistula.
Mr Babughirana said that in this partnership, World Vision is venturing outside their usual work of community based programming to fostering private partnership to support other activities not ordinarily done by World Vision.