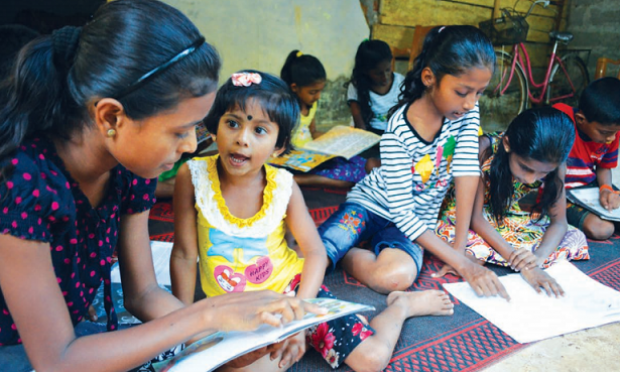 Prarthana (13) is a reading buddy to ten children with ages ranging from 6 to 12 in her neighbourhood. Twice a week, children gather in one home to improve their reading.
"Now I want you to look at the picture on the cover.
Can you tell me what's in the picture? Who is the author of the book?
You can first glance through the pictures in the book and then start reading."
Her instructions are loud and clear. She pauses to listen to their answers to the questions and then asks more questions to help them think. Listening to her is like listening to a well-qualified teacher who knows how to keep her students in focus, knows what she is doing and knows how to do it well. She listens carefully to each child, paying attention to their pronunciation as they read.
"That's not how you pronounce that word," she gently corrects a little girl. "Do you see this letter? It's pronounced this way. Say it with me again."
Reading Buddy (a product of Save the Children) was implemented by World Vision in Wilgamuwa in collaboration with the Zonal Education Office and a local NGO who are experienced in improving the reading skills of children.Children like Prarthana who already showed great leadership skills were selected and trained over a period of three months in effective reading techniques and in transferring the skill to others who are weak. The leaders were monitored, evaluated and approved before they formed their reading groups.
"We learnt many techniques. The first one was how to attract children, especially boys to the books. That is why we encourage them to study the cover of the book and go through the pictures first. Pictures help them know the characters in the story," Prarthana explains.
"Some of the children who were in my group couldn't even read. So, one of the most useful techniques was how to keep your finger on each word or sometimes at each letter to help them focus and pronounce one by one," she says, " Now among them, everyone can read at least short words with two syllables."
One of those who benefitted is Bhanuka, 8. "He was very weak in school and got very low marks in exams," says his mother, "After he began to attend Prarthana's reading group his marks began to greatly improve. It was after that, that I realized it was because of his lack of speed in reading that he failed to answer question papers in full."
"Reading keeps children from wasting time on useless things," says Prarthana. "That is why even to the children who still can't read I read out the story to them and with them so that they begin to like books and stories."
Prarthana has read every book in her primary school library and is now an active borrower from the library World Vision has given to the child society in her village. Prarthana has also started to read simple English books with the help of her teacher.
"My love for stories comes from my grandmother. She tells me a story every night and sometimes I tell her a story," she smiles. Prarthana has been living with her grandparents ever since her mother abandoned her when she was six months.
Encouraged by the literacy improvement programme she has created her own special corner in her little home decorating it with alphabets, poems, thoughts and other interesting write-ups. She has already written a few stories on her own and loves to recreate stories in a way little children can understand.
"I use a lot of animal characters in the stories I write because we can learn so much from them," she says, "I love reading stories of motivation and want to someday write my own life story. I have already decided the title – 'Prarthana's Prarthana (wish)'. In it I want to talk about the beauty of my village, the challenges we face, the support I've received from my grandparents who brought me up."
Prarthana wants to become a teacher when she grows up. She already is one.