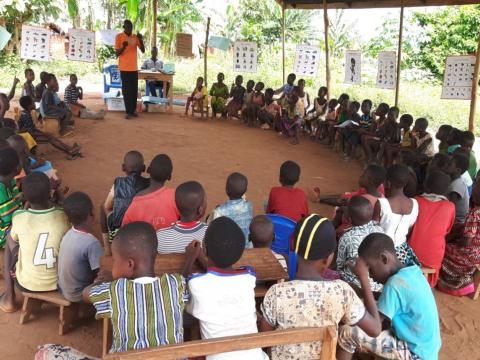 Strengthening literacy through community engagement: The experience of Literacy Boost in Ghana
Tuesday, December 8, 2015
Written by: Andrew Ofosu Dankyi

The global office in seeking to strengthen education programming by maximizing the learning outcome of children introduced the education transition initiative (ETI). As part of the initiative, beneficiary countries were to pilot evidenced based education approaches that increase the reading ability of children. This was against the backdrop of the results of national Early Grade Reading Assessment in 2013, which revealed that only 2% of grade 2 children in Ghana can read with comprehension. World Vision Ghana then adopted the Literacy Boost (LB) project to be piloted in Kintampo ADP. 
The LB model is an evidenced based reading approach that complements in-country education curriculum to improve teacher capacity, community action and the availability of teaching and learning materials. The LB is predominantly a mother tongue instructional approach.
Eight months into the programme implementation, the community action component was already a success. Currently, over 598 children are attending reading camps and receiving additional reading instructions in twenty-two (22) project communities. Children attend reading camps at least three times a week.

Not only that, the parental awareness component is giving strategies to support parents to support their children's learning. These reading camps are manned by community selected volunteers. These volunteers are trained by WV and equipped with a facilitators guide.
Auntie Akua, a 42 year old mother of three who expressed her appreciation for the project said, "Initially, I did not understand the concept, but now I do and my children are excited to attend the reading camps.  I also learnt from the parental awareness sessions that I can create literacy space with local materials in my house for my children."
Oppong Gyasi, a farmer and father of four also stated, "I have seen significant improvement in my children's reading.
Gyasi assisting his son to read at home
In Krutakyi, the head teacher confirmed that most children could now identify letter sounds due to the reading clubs. He said "We are working with the volunteers to see how to link the attendance of reading camps to school attendance".
In addition, Nana Puba ll, Chief of Chaara,  a small farming community recalled how his greatest worry had been how to make sure the children in his community continue school to high grades. "I now see this project as a great opportunity to achieve that", he noted.
Although the project is in its eight month of implementation, it has made available 15,000 copies of 75 titles of level appropriate reading books and six thematic wall charts to 22 reading camps.
Children having fun at a reading camp
Four communities through partnership with WVG have also agreed on incentive packages for the Volunteers who facilitate mobilize the children.