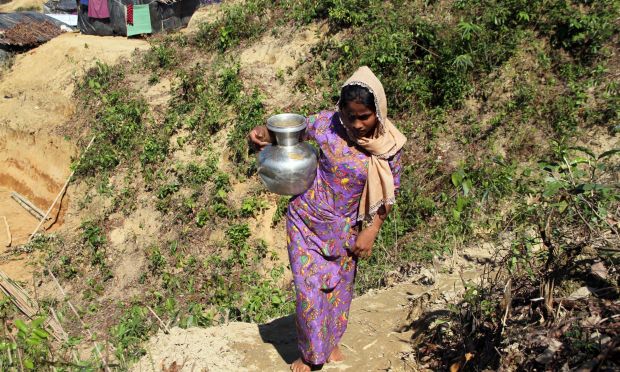 'Before the conflict, I lived in a beautiful home with my husband and my child. Though my husband earned little wages by daily laboring, but we were happy. We lived in our own house. But we have nothing now!' says Hasina.
Hasina is among one of the 620,000 new arrivals including women and adolescents are in need of immediate WASH support including safe and hygienic menstruation management. Among them 58 per cent of new arrivals are children and 60 per cent are women including a high number of pregnant (3 per cent) and lactating women (7 per cent), According to recent ISCG's rapid needs assessment report.
She had to walk through a long with her husband Jafar Ullah, 25 and their five-year old child Nouima, who lost her parent in the violence of Myanmar and then adopted by Hasina and her husband.
Hasina had a long walk to reach here in Bangladesh with her husband Jafar Ullah, 25 and five-year-old adopted child Nouima. It's been fifteen days she and her family members are residing in a temporary shelter in Balukhali camp. She shared with pain in her eyes those they had adopted Nouima, who has lost her parents in the violence, occurred in Myanmar. Caring for her family members, she said, is an everyday struggle for survival.
'We are facing with hard conditions here,' she said. 'Life is not easy at the settlement. It's about hustling and struggling to survive. We abandoned everything and cam empty-handed when the fighting broke out.'
Just over two-months it opened on September, Balukhali camp is under enormous pressure and refugees face a desperate life –sustaining food, clean water, basic accommodations , health care, educations, shelter, proper sanitation and other basic needs. Young girls and women in particular struggle with limited access to safe sanitation and clean water facilities as well as menstrual hygiene as others look for food and health care. While looking around the temporary shelter a very unhygienic open place for urination and defecation and a bathing place covered with black plastic can be seen.
Hasina described the daily challenges facing refugees at the camp.
"I can go for urination or defecation only when it's dark so that no one can see me. Sometimes it is only once a day. I feel tormenting pain in my abdomen as I have to wait till night for urination."
Expressed Hasina with a very weak voice.
"When I go for defecation or urination in the open place in front of our shelter I get unpleasant odor. I feel so bad that time and recall about our house at Myanmar as we had good toilet and bathroom there."
Like Hasina, around 1.2 million of people including women and adolescents are in need of immediate WASH support , among them 914,899 people are targeted for sanitation and 1,166,000 people for, a ISCG's WASH sector Cox's Bazar Report said.
There are many barriers to dismantle. But among the most widespread and neglected are those obstacles that accompany the normal biological process of menstruation.
And like Hasina, menstruation is a very normal time and healthy physiological activity for thousands of girls and women at refugee camps every month and access to menstrual hygiene products at this time impacts their health, dignity, comfort, and ability to move in their residing areas.
But it is very pathetic that her life becomes worse in this time since she came in this camp. During this time she needs to use very unhealthy and unhygienic available old clothes which can cause infectious diseases anytime.
"I also cannot change the wet clothes whenever it is required as I have to check if anyone is seeing or not. Often I change it only once in a day." says Hasina hesitatingly. Since they came here this family has received only one soap for bathing, washing clothes and every day's cleaning.
In the camp women also cannot take bath in the daylight as most of the bathrooms are open here on the top. So, women and adolescent girls take bath at night. For this reason Hasina often got cold and fever.
Very limited numbers of tube-wells have been installed here for a large number of people of the camp. Hasina collects water from a nearby tube well by climbing down the hill and often feels weak to climb up with the heavy jar of water. Recently while fetching water from the tube-well she fell down by accident and got hurt. She is still having abdominal pain for that reason.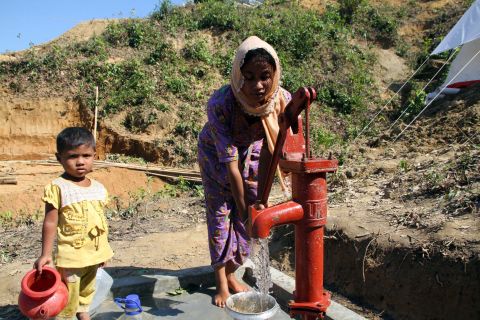 photo: Hasina fetching water from tube-well in her camp.
While Hasina has to face this much pain and suffering here she recalls the good days she has passed in Myanmar with her family. She also feels so helpless that time. Life seems with full of uncertainty but she thinks that she has to accept anyway as she is surviving here anyhow with her family members after experiencing such a worst violence.
Relief organizations have reported acute hygiene and sanitation problems in temporary camps that disproportionately affect women and girls. Without access to electricity, clean water and latrines, women must resort to walking into jungles in the dark, leaving them susceptible to harassment, violence, and contracting gastrointestinal diseases.
That is why, World Vision is supporting refugee people like Hasina and has recently reached 105,250 people through its food distribution program and on board to its six-month plan targeting 10,000 households to receive hygiene kits including menstruation management materials. More, eighty tube-wells will be repaired or built. Besides, 750 female toilets including 400 female bathing spaces will also be built. And these initiatives have to be coupled with increased efforts to provide safe and sustainable sanitation facilities, access to clean water and safe disposal- also aims to provide privacy and dignity to women and adolescent girls during menstruation.
'I hope for a brighter future. We shall overcome this suffering and pain one day. I pray for peace and stability', said Hasina, spinning a long yarn.
Story: Juliet Mondol