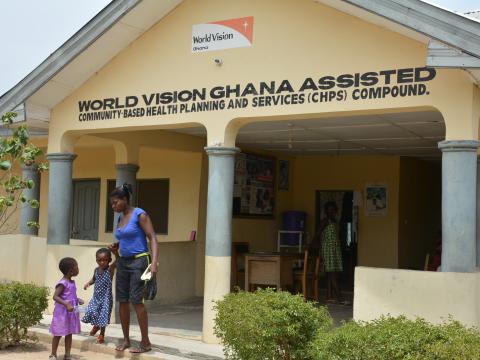 World Vision CHPS Compound Relieves Three Communities
Friday, April 1, 2016
Written by: Marian Roberts
People living in Ahwerewa, a farming community in the Sekyere East Cluster within the Ashanti Region could not access health care in their community prior to 2011. Residents within Ahwerewa and neighboring towns had to travel between 3 to 9 miles to Effiduase, the district capital in order to access health care.
However, in World Vision saw the need to bring health care to the doorstep of the community and so a CHPS compound was constructed and medical supplies provided as part of World Vision's health intervention to relieve community members.
In an interview with Joseph Atiemo, a cocoa farmer and his family, he revealed he and his family used to travel on foot to the Effiduase the district capital when they themselves or child was sick to access health. This he said was because there were no cars plying the road frequently at that time. "Even if you get a car, you would spend all your money on the transportation and end up having nothing in your pocket to pay your hospital bills", he added.
Joseph, a father of two recounted the construction of the CHPS compound gave a relief to Ahwerewa as well as the two neighboring Feyiase and Bomso communities. "Now if your child is sick, you just carry him or her at your back and run to the clinic for treatment. World Vision also supplied the clinic with drugs and so we are given the drugs for free which enables me save the money to feed my family", he said.
Regina Donkor, wife of Joseph also added that, their community can boast of three boreholes which has made life easier for her enabling her get clean water for her 2years old daughter Josephine and eight years old son Jarvis. She lamented, she used to walk about 15miles to fetch water from a stream to cater for the household but now has access to clean borehole water which is nearby.
"Since we got the health center and the water, things have really improved for us. I am able to educate some of my friends and relatives on the tips of nutritious feeding for children I learn from the health center.
Confirming, Rosemond Owusu Ansah, Community Health Officer in charge of the CHPS compound who has been at post for three years collaborated WVG provided a the center with hand washing soaps, trolleys, bed couch, fridge to serve as a storage for vaccines and drugs such a zinc tablets, fesolate which has been of immense help to patients who visit the center.
According to her, the center normally treats cases such as malaria, anti-respiratory infections, and diarrhea and pains since most community members are farmers. On the other hand, though they embarked on growth monitoring such as weighing and vaccination, all maternal deliveries are referred to the district hospital.
Rosemond said on a daily basis, they handle about 20 cases, whereas on market days, they handle between 40 to 50 cases.