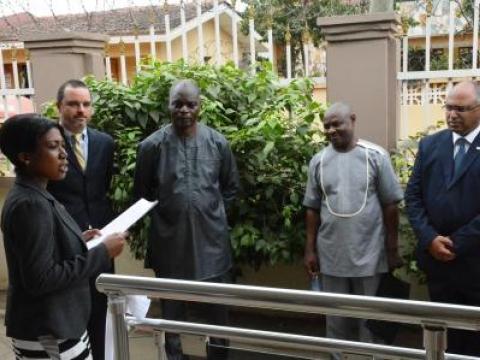 World Vision International inaugurates the first Shared Services Centre in Africa
Tuesday, October 17, 2017
World Vision International Partnership inaugurated the first Shared Services Centre (SSC) in Accra Ghana, on Tuesday, September 19, 2017. The centre is the first expansion in Africa with two others in Costa Rica and Philippines. The SSC will provide high quality transactions in the area of finance, procurement and information technology to 15 National Offices and other World Vision Offices across the world from a central location. This is to improve effectiveness in the partnership by executing business processes with greater scale and efficiency. 
Addressing dignitaries at the opening ceremony, the National Director of World Vision International in Ghana, Mr. Dickens Thunde explained that the centre is to further improve on the partnerships' operational efficiency, and streamline its financial systems through cutting-edge technology and highly trained workforce. He said this is World Vision's objective to prioritize our interventions to ensure strict adherence to our strategic imperative that states "Focus our ministry for greater impact" to make certain the most vulnerable in society benefits from the organization.
The Senior Director of Shared Services Operations and Implementation at World Vision International, Mr. John Sparks said the first SSC was opened in Costa Rica in 2014, and the second in Manila, Philippines in 2016. The Ghana office is the third of its kind to be inaugurated. 
"We are now restructuring our global team to focus on process execution. We are at worst places, just to put a smile on the faces of needy children and families because they live in situations that required support" Mr. Sparks added. 
This new centre is in collaboration with the offices in Costa Rica and Philippines, and will provide a 24hr support to World Vision global operations.  The team is currently performing finance transactions and quality control for photographs and videos for World Vision customers in Africa, Asia and Europe. There are plans for expansion to new processes and new customers in the future. 
According to the Global Transitions Manager and Continuous Improvement Coordinator, Mr. Wilfred Haruna, SSC Ghana, currently offers Invoice Creation, Payment Run, Master Data Maintenance and Customer Support services, creating an average of 2,200 invoices per month for 11 countries in Africa.  The organisation is hoping to increase the number of invoices created per month to 3100 by the end of November, 2017.
"So far my experience with the SSC has been very good. I see different functional teams work openly as one big team. The work ethic is admirable and the obvious executive support is motivating. The use of collaborative tools such as Microsoft teams enhances our work across different time zones and provides a quick and easy way for real time engagement." Mr. Haruna said.  
"I appreciate leadership support in providing tools and equipping staff with the relevant skills they need to perform optimally. Personally the flexibility of working from home makes me more productive as I can avoid wasting time in traffic jams at peak hours. It also reduces stress. It's amazing the amount of work the teams do on a daily basis and I look forward to the exciting future that awaits us." Mr. Huruna stated excitedly.  
For further information on our services and the best way to assist you, kindly contact Jerry Lobo at jery_lobo@worldvision.ca or Henry Ayim Amoako at henry_amoako@wvi.org.