Written by: Marian Roberts
Ekutuase Primary School in the Mpohor Wassa East District has in the past three years recorded poor academic results due to pupils poor reading and comprehension skills. The headmistress of the school, Miss Juliana Cobbinah, revealed that pupils could neither read simple story books nor speak fluent English. " Most of the children cannot read a single paragraph on their own, and this affects their performance as well as make teaching difficult" she said.
According to Miss Cobbinah, both teachers and parents were disturbed by the pupils poor performance during their 2014 School Performance Appraisal and held series of PTA meetings to resolve the situation when World Vision introduced Child Clubs in the schools.
She mentioned the clubs awakened pupils learning interest after they had joined the clubs. "Currently, there are about 70 pupils who are members of the different Child clubs. They engage in several educational activities such as reading, spelling, tree planting and hygiene promotion and this has enabled them to improve their performance" the headmistress noted.
Continuing, Miss Cobbinah emphasized that the introduction of the scrabble as club activity has also improved the spelling proficiency of pupils. "Previously, some pupils couldn't spell simple words but the scrabble game has improved their spelling and they are able to spell words in their 'peace albums' which they revise every day" She added.
She further confessed that due to the interactive nature of the clubs, pupils who were fond of playing truancy now attended school regularly. She is excited that pupils have also understood the essence of hand washing. "The children now wash their hands with soap and running water regularly because we have five hand washing containers provided by World Vision" She said.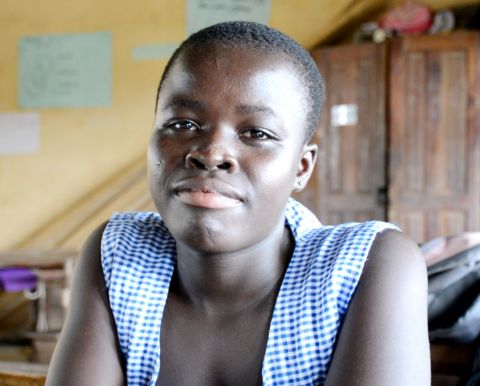 Augustina, a JHS One student of Ekutuase Junior High School said she joined the club in class 5 and narrated that, some of the things she learnt at club meeting such as values, causes and prevention of HIV/AIDS and malaria had been very informative which she further shares with her parents and younger siblings. The 14 year old who said she wants to become a Journalist, revealed her confidence level had increased since she joined the club . "I am now able to speak in public and even host programmes in the community".
In addition, Bright Baffoe, 14 and JHS1 student of Sekyere Krobo D/A JHS also said, "I joined the club when I was in class six (6). Whenever we go to club meetings we learn about the environment, how to protect and maintain the environment and how to treat our neighbour, and having compassion for one another. At first, when I was not a member of the club, it was very difficult to read and write, but now, I can read and understand. I want to become a doctor when I grow up because I would like to save people's lives."
---
Featured image: Children playing scrabble during club meeting