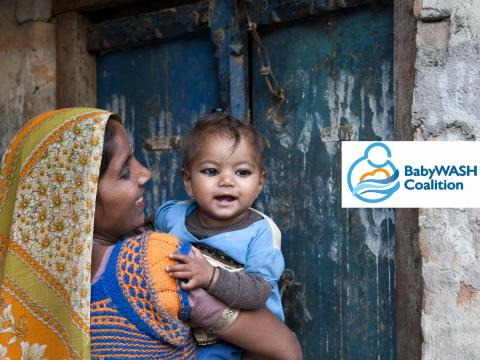 BabyWASH Webinar Recap: Research Questions and Innovations for Multi-Sectoral Actions
On 13th April, the BabyWASH Coalition hosted a webinar highlighting research and programmes in support of BabyWASH and reducing Environmental Enteropathy. If you missed it, you can listen to the recording and view the presentations below.
Meeting Recording: https://wvi.webex.com/wvi/ldr.php?RCID=f854cae0026b3e32e29367f34df23cfb 
* Peter Hynes from World Vision International presented on an integrated project that is planned to begin implementation in Kenya this year. The main goal is to see if an integrated approach that intentionally integrates sectors in the first 1,000 days is more effective than a siloed approach. There is also a separate piece of research that will use the TIPs method to determine what interventions for a 'clean play space' are culturally acceptable. View presentation: 

* Sarah Bauler from Food for the Hungry presented on early-stage research they are doing in the DRC in conjunction with John Hopkins University. This study will determine if BabyWASH interventions can significantly reduce geophagy and thereby reduce EE markers and growth faltering (stunting and underweight) among children less than 24 months of age. View Presentation: 
* David Nunoo from SPRING Ghana presented on their recently completed WASH 1,000 project (http://bit.ly/2nLMwc3). He highlighted their 4 prioritised interventions for BabyWASH: Disposal of faeces (including child and animal), hand washing, boiling water and clean play spaces. View presentation:  
* Dr. Christine George from John Hopkins University provided links to some of their papers on environmental enteropathy:
"We found that households with unsafe child feces disposal practices had a more than 5 times greater odds of having diarrheagenic E coli in the soil in areas where study children were observed playing. This finding provides evidence to support the hypothesis that unsafe child feces disposal puts young children at a greater risk of exposure to enteric pathogens." 

"Findings suggest that close contact with animals and caregiver hygiene are significant risk factors for EE in young children."

"Children with caregiver-reported geophagy had significantly higher EE scores...Furthermore, at the 9-month follow-up the odds of being stunted was double for children with caregiver-reported geophagy."

"Over 82% od children were observed mouthing soil, objects with visible soil, or food with visible soil in the structured observation period...Children observed mouthing objects with visible soil had significantly elevated fecal calprotectin concentrations. There was also a marginally significant association between E coli counts in soil from a child's play space and the prevalence rate of diarrhea." 

For a definition of acronyms used during the meeting and the full list of answered questions from the webinar, see the .