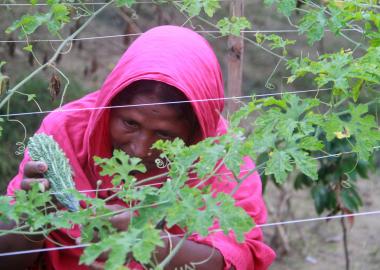 Bitter gourd brings better days
Wednesday, August 16, 2017 — Lingkon Serao
Around 500 ultra- poor farmers of five villages   under Shribordi upazila of Sherpur district have become self-reliant and changed their lives through cultivating bitter gourd.  
These five villages are Kornajura, Megadal, Chandapara, Malakuchua, and Hariakona villages. 
As the farmers got much profit through bitter gourd cultivation after getting repeating bumper production with fair prices, the farmers are cultivating it during the last several years. So they are getting more interest in bitter gourd cultivation instead   of other crops such as paddy, jute, and wheat. 
World Vision Bangladesh has been facilitating farmers to cultivate these vegetables.  The farmers were provided skill development training on agricultural production with necessary technical assistance for vegetable cultivation from World Vision. Before the farmers were trained, most of the areas of their cultivatable land and homesteads were uncultivated.
Meanwhile, traders from different areas of the country come to Megadal  Chowrasta Bazaar of the upazila (local wholesale market)  to purchase bitter gourd and later transport it  and sell it in different parts of the country. Every day, on an average, 250 vegetable growers come to sell their product in the market. 
Farmer Salema Begum   of   Chandapara   village said, "I cultivated bitter gourd on two acres of land after taking lease land from the Department of Forest this season, and investing Tk 50 thousand and  I got Tk 1.4 lakh after selling the produce in the local market.  I expect more Tk 70 thousand by selling the remaining produce. Besides, after harvesting bitter gourd, I grow   other vegetables as well. By cultivating these, I have been making good profit that enables me to send our kids in school"
Photo: World Vision helps local farmers to establish market linkage through value chain process that ensures fair price 
Ziaul Hoqe, another farmer of the same village, said, "I took lease two acres of   land   from the Department of Forest and I cultivated bitter gourd on the land. I invested there Taka one lakh but I got Tk one and half lakh by selling the produce, and I expect to get more than Tk 60 thousand by selling the remaining produce.It helps me to bear family expenses and schooling of my child "
Observing the success of Nazma Begum, Ziaul Hoque and many other beneficiary members of Value Chain Development Project (Group's approach to ensure to quality produce and fair price), many farmers of other areas brought their land under vegetable cultivation.
Upazila Agriculture Officer of Shribordi Nazmul Hasan said, the farmers have been showing more interest in cultivating bitter gourd in recent years as they got bumper output and fair prices of their produce in the local markets. He further said department's   sub-assistant agriculture officers (SAOs) organized yard meeting to develop the farmers' skill and World Vision is greatly contributing to help farmers.
World Vision Bangladesh has been initiating to increase income and ability of the marginal and ultra-poor farmers through Value Chain Development Project. A total of 450 acres of fallow land were brought under vegetable cultivation through Value Chain this year. Now the targeted farmers can easily bear the educational expense, treatment cost, clothing and other expenses of their children."
Story : Devashish Ranjan Sarker, Media Relations Specialist, World Vision Bangladesh
Photo: Xavier Sku, Regional Advocacy and Communications coordinator.