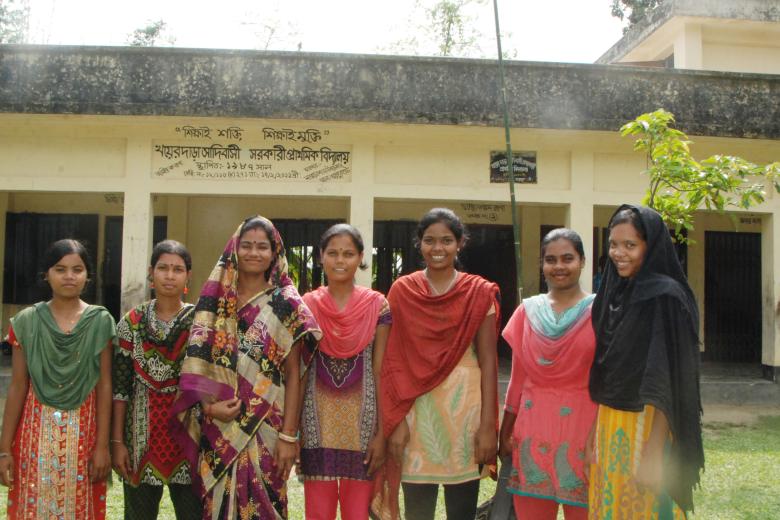 Bridging the education rights of tribal children: A community ethnic school's success story in Bangladesh
Monday, March 23, 2015
Khayerdara, a tiny ethnic village in Joypurhat district, in the northern Bangladesh, can easily be missed on the country highway. It's white colored brick building can pass off as any other village school. But the facility is actually an outstanding example of World Vision's model for education.
The school, with a focus on government-curricular activities, aims at educational rights of ethic group of children by instilling among them a love of learning. Holding classes in Bengali, instead of their native language, has been the real game changer in these parts. The move has not only helped in increasing the literacy rate in the area but also boosted the confidence of the otherwise marginalized ethnic group children.
Joypurhat is home to several tribes, and since these ethnic minority communities, as well as six nearby Bengali-speaking villages, didn't have any schools until the late 1980s, the number of children in education was very low.
 To deal with this challenge, World Vision founded a school in 1987, named Khayerdara Adibashi Government Primary School, which was initially housed in a mud-built structure constructed using a donation from Khayerdara resident Shri Toroni Mahato.
Holding lessons in Bengali on the national curriculum , instead of the pupils' mother tongue, has been the real game changer, with the move not only raising literacy rates, but also boosting the confidence of the otherwise marginalized ethnic groups.
"We provide a healthy and happy environment and the results are starting to show. When our pupils go on to high school, they're invariably top of the class."
In the beginning, the school only had grades one and two and 176 children. World Vision provided furniture and study materials, such as benches, desks, books, pencils and other educational support.
"And to bridge the language gap, we recruited teachers from local tribes who could speak Bengali and also some from elsewhere." After World Vision's original programme ended, local people kept the school running until 2001, when the organisation's new development project helped construct its current white building, which is also used as a flood relief centre.
"All this was done with only one goal in mind: to get children in school. The Bengali curriculum had an instant effect, with the attendance of tribal children jumping from 35 to 85 percent within a few months."
For several years, the school's attendance rate has averaged 90 percent, while no children have dropped out. In fact, young residents of nearby villages, with schools of their own, prefer to attend Khayerdara's school, despite having to walk much further to get there.
The primary school now has 136 pupils, all from ethnic minorities, in grades one to five and four full-time teachers, who are able to provide personal attention to the children.
Rekha Mondol – who belongs to both the school's management committee and a community-based development organization backed by World Vision – says: "World Vision supported the school to achieve government registration in 2010 ... [and] also constructed a 1.5-mile [2.4-kilometre] road, which has helped the children to get to school and others in the community."
The pupils are clearly excited to be in such a school. When asked what is best about it, the cacophony of young voices praises the happy and healthy environment and the chance to learn Bengali.
Meanwhile, there has been a dramatic shift in attitudes towards girls, with many parents now happy to send their daughters, as well as their sons, to school.
Sonali Rani Mahato, a formal student of the school and now a teacher at another primary school, says: "Ethnic minority girls have always been disadvantaged in education because they often have to do domestic chores and look after their younger siblings.
"At least this school has allowed them to get a good education at primary level, which I hope will give them enough confidence to demand their right to schooling."
Khayerdara Primary School is an example for others to follow, with its current principal expecting it to change the face of primary education for Joypurhat's ethnic minorities.