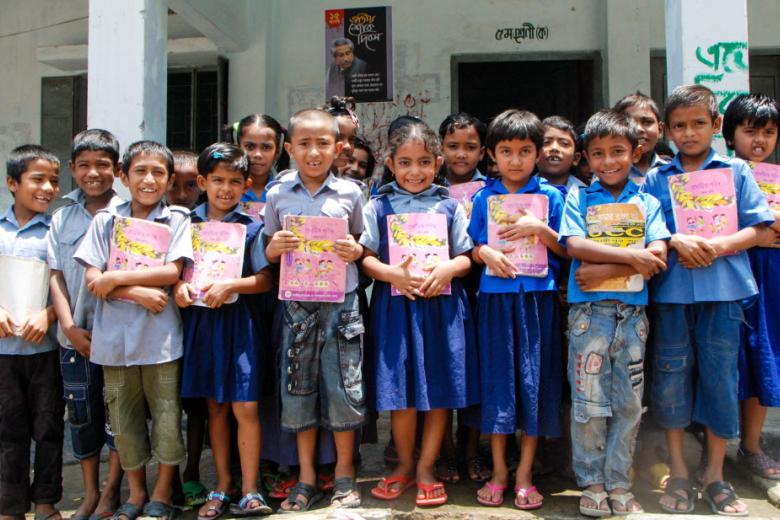 A Child Friendly Space Odyssey
Monday, September 15, 2014
While your average six-year-old might dream of a plastic truck that transforms into an officially merchandised, money-making robot or a pair of sleek roller blades the wheels of which light up as they spin, Bristy's dream was simpler: she just wanted to go to school.

But the flimsy income her father made working in a less-than-five-star hotel meant there was nothing left for 'luxuries' like education after forking out for her and her two younger siblings' basic needs.

And with the three young children meaning he faced a daily struggle to make ends meet, Bristy chose not to nag her father to fund her school fees despite aching to learn, her ever-present smile hiding her disappointment.

Home for the wannabe scholar is in the Bangladeshi region of Kalkini, and it was here that she met Sayeda Lubna, one of World Vision's team bringing its Child Safety Net project to life.

A key part of the project is its Child Friendly Spaces (CFS), which are used in emergency situations or locations with deep-seated poverty to create safe places for children to play and learn.

After discovering that Bristy had never attended school, staying all day at home with her mother instead, Lubna suggested she join Kalkini's CFS programme, which she did in 2012 after her community selected her for the opportunity. Bristy's dream was back on.

Now she has 'graduated' from her CFS group, the six-year-old is happily nestled in grade one at a state-run primary school in Kalkini, with the hardworking, enthusiastic pupil having come top of her class last year and being able to read and write at impressive speed.
Without the CFS and her parents' encouragement, though, she is certain she would still be back home, excluded from school.
She says: "When I first joined the class, everything was new because I'd never been to any lesson before."
Bristy hasn't lost touch with her CFS teachers, however, as she regularly attends their life coaching classes.
Her mother, Asma, says: "In her lessons, Bristy's learned a lot about water hygiene, how we should wash our hands properly and how to behave with older people, which she's taught to her siblings. And now she says she wants to be a doctor when she grows up."
For Bristy, the CFS mentoring and motivational support she received was crucial in her development and today she is a perfect example of someone who achieves despite whatever hurdles are in the way.
As she says, smiling again: "My parents are very proud of me and I'm proud of myself."
Children enjoy exercise at the local World Vision Child-friendly Space.