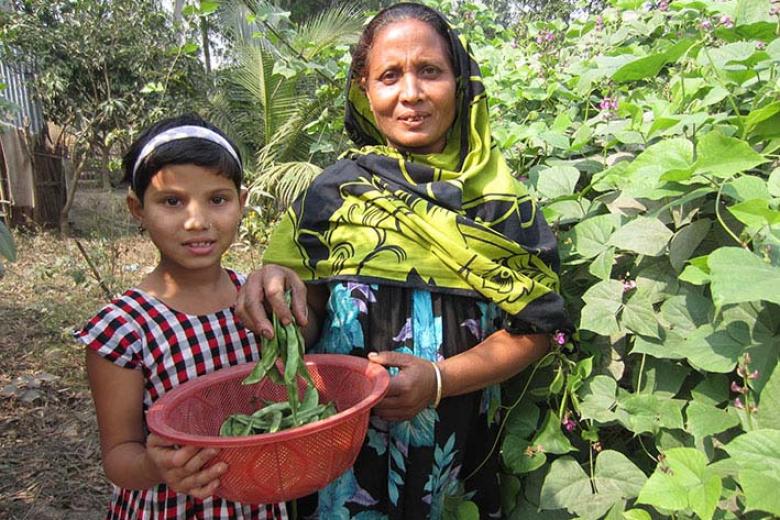 Darkness turns to light of hope
Saturday, May 31, 2014
"Our days were passing happily with two little kids. At least three meals a day was affordable to us. But we fell in total darkness when my husband, the only bread earner of the family passed away four years back. My younger girl was crying for food every now and then. It was an unbearable time for us," says Shahanara as she begins to weep.
Shahanara Begum, 40, is a housewife who lives in Ghoraghat under Dinajpur district. She has one daughter and a son. When her husband died, Amirul, her son, stopped school in grade eight and started to work to help the family survive. Shahana also started working at her neighbour's home to help her son.
During their dire poverty, World Vision enrolled Shahanara's younger daughter, Keya, as a registered child. She herself  was also inspired to involve with local Mukti Mohila Unnayan development group for improving her overall situation.Besides, World Vision provided her with various training like homestead gardening, small business entrepreneurship, sanitation, and animal husbandry as a means to combat her poverty. After the training she started cultivating beans, pumpkins, green and leafy vegetables for earning in parralel to fulfill her family's nutrient needs.
However, it was not sufficient for them to survive, therefore, the villagers helped the family to start a new business. The contribution of villagers and a loan of $52 USD from the development group helped her starting a grocery shop. World Vision also provided her some grocery items of $120 USD as well as technical support to run the business last year. Her son is now operating the shop and experiencing good sales and profits to run the family well.
Many families are improving their livelihood like Shahanara with the assistance of World Vision Bangladesh. Shahanara is very thankful to World Vision and the development group for contributing to her life's improvement.
She says she will continue her struggle to show the light of life for her son and daughter. She also dreams, "My daughter, Keya, is in grade three now. I hope she will be a nurse one day."
Written by: Golam Ehsanul Habib