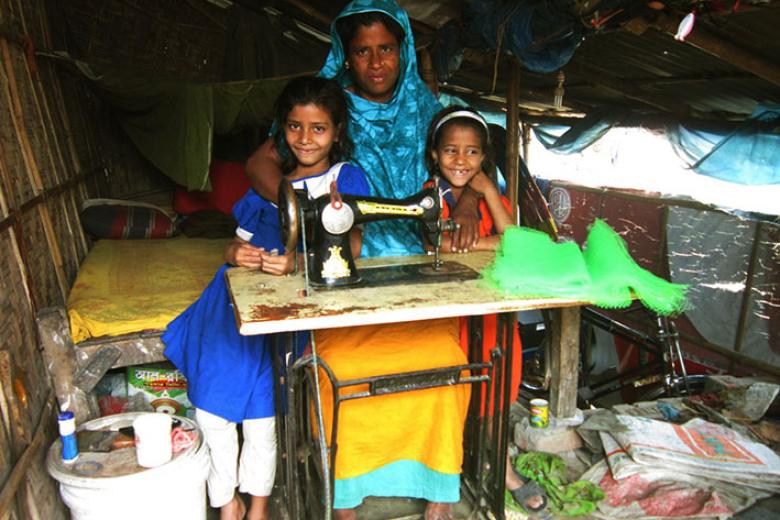 Fatema dreaming of a better future
Wednesday, March 12, 2014
"I was very vulnerable but Child Safety Net Project (CSP) has extended its hands to me for my better future. I am encouraged and hope from their support I can start dreaming about a better life." -says Fatema Begum, one of the program participants of CSP, a project implemented by World Vision Bangladesh with financial support of European Union. 
Fatema lives lives in Jessore Sadar Upazila with her one son and two daughters. Her husband left them and remarried. The family was living on the earnings of her 14-year-old son.
After considering her situation, CSP admitted Fatema's two daughters into the child friendly space program. CSP also brought Fatema into an Income Generating Activity intervention and trained her on net bag sewing. Fatema was given a sewing machine and her earnings began from taka 30 to 50 per day. Fatema's earnings added value to her son's income. The new source of income also inspired Fatema to develop future plans and she started saving in a local informal community group called Serial.
During this time, her husband Kalam returned to them but he has not found work yet.
Fatema took loans from a local NGO and bought a rickshaw for her husband. From the rickshaw they earned taka 250 to 300 per day. Each week they repay the loan at taka 175 per and save 25 taka.
Fatema with her family.
With the passage of time, Fatema started to dream a big dream. She wants to lift her family out of poverty. She sold her rickshaw at taka 6000. She took another loan of taka 28000 from the community group, based on her savings.
She bought a battery driven rickshaw on installment. Now her husband earns taka 400 to 600 per day and paying the loan installments from the earnings.
Fatema was crying with joy as she described her situation, "Earlier my children only ate smashed potato or smashed chilly but now things have changed. I can afford to buy fish for their daily meal. I can support both my daughter's education. Now I am able to buy festival dresses for them and encourage their hobbies too. My children are much happier now. I feel good and safe about my daughters."
Fatema is now valued more by her husband and he considers what Fatema thinks in any type of family decision. Her husband is well behaved with her also. Fatema give heartiest thanks to  World Vision. 
Written by: Mahamudul hasan