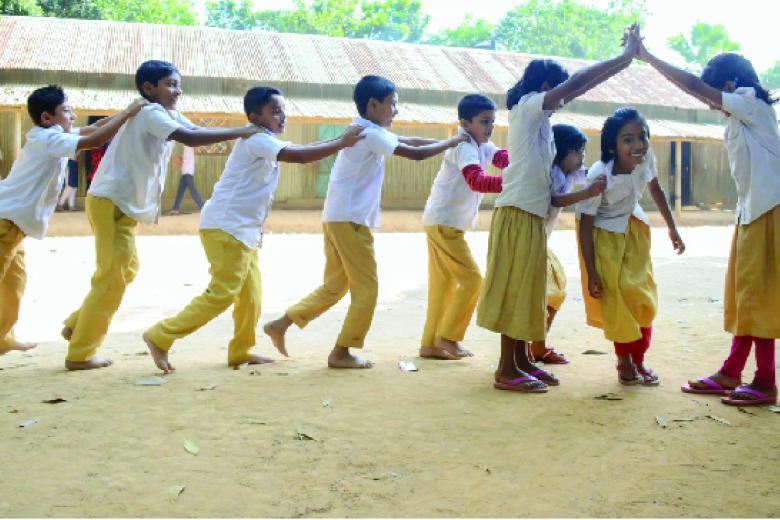 Hazi Shaheb Ali Model School–Improving facilities improves attendance
Tuesday, February 19, 2019
Twenty-four years after it opened its doors in 1993, the Hazi Shaheb Ali Model School in Bhaluka Upazila, northeastern Bangladesh has new classroom furniture. Gone are the broken benches and colourless walls. Students are enjoying five renovated classrooms and current learning materials. Safe drinking water and separate toilets for girls and boys make the school a welcoming place. 
Training for teachers and the school management committee were recently introduced. Students in grades 1-8 benefitted from life-skills education, too. 
All this has been possible thanks to the school management committee (SMC), teachers, local level officials and community participation. Together, in 2011 they began planning the school's development under the leadership of the head teacher, Md Monju Mia, and supported by World Vision.
Their goal was to create a healthy, child-friendly learning environment and ensure inclusive, quality education. Their efforts paid off. The school placed first in the Primary School Certificate Examination in Bhaluka Upazila in 2014. 
"Children now enjoy coming to school as they get to learn in a quality learning environment," says Mr. Mia. Classrooms have been refurbished, teachers and school committee management committee trained and  sanitaty facilities have been constructed. By creating better learning environments, children have access to higher quality education. There has also been a positive impact on the school's ability to attract and retain students. Previously, students were housed in low-level classroom facilities and not sufficient facilities for clean and gender friendly sanitation facilities. Now, because of their new classroom, sanitation and other education support facilities, they can enjoy their school time and have easy access to the classrooms, and their motivation levels have improved.
"A major contributing factor of the support which we got through World Vision is that the school has changed not only the children, but parents as well. It really helped ensure that their children attend school. The new school has encouraged more parents to send their children to school, particularly those children who were not willing to do so, because of meager class rooms and other supportive education facilities, while now that the buildings have been improved!", added Md.  Monju Mia.
Now, the school has its own 54-decimal campus, complete with 10 corrugated-iron walled classrooms and a teachers' room. Every year, all 394 students are promoted with excellent results. The school has 78 sponsored children of World Vision. Every student passed the Junior School Certificate Examination for two consecutive years in 2015 and 2016. Now, packed SMC meetings take place regularly, the teachers are confident and, most importantly, the children enjoy coming to class to learn and play with their friends. 
The support under World Vision's Education Project contributes to the lives of vulnerable children across the community, providing them with holistic, quality education and the facilities to thrive.