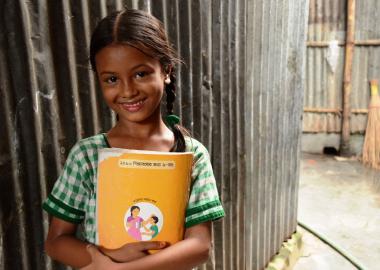 Lamia's life in all the fullness
Thursday, December 22, 2016 — Lingkon Serao
"I was the happiest when for the very first time I danced in a stage show in front of hundreds of people and heard their clapping after my performance." 8 years old Lamia says with smile. Her glistening eyes show that she is girl of hope.
Lamia lives with her father, mother and elder sister in a slum in Bangladesh. While entering into the area she lives, it seemed different as the lanes were smooth and spacious. And the best part of the slum, it is very neat and clean. Lamia's father Najrul Islam (40) is a carpenter and her mother Shipa Begum (30) works as a cook and assistant in the school where Lamia reads in. Lamia's sister reads in Grade 8 and is an attentive student. Two years back Lamia had been enrolled as a registered child of World Vision.
Photo : Lamia with her mother Shipa Begum
Recalling the past Shipa Begum said, "Earlier we struggled a lot because of poverty. We couldn't provide enough food for our children or fulfill their simple wishes. But now my children are healthy and happy and I dream that one day they will be successful and independent."
Since Lamia's enrollment in the sponsorship program she is getting not only the educational supports but the support to grow up as a competent human being. Here girls and boys like Lamia go to learn dancing from teachers as an initiative of World Vision. A field facilitator named Lima Akhter said, "It's really amazing that Lamia has performed in many programs of World Vision Bangladesh and she is a wonderful dancer. She got the first prize in school for dancing". Children also learn the importance of washing their hands before eating and after using toilet from the program arranged by World Vision.
She is studying in Grade 2 and her favorite subject is Bangla. She said, "I just love to study and I want to be a doctor in the future." She also loves to eat ice-cream and play and chitchat with her friends Sumona, Jemy and Antora but her best friend is Sumona. Every day they go school together. But Earlier the picture was not this beautiful. The streets in this area were totally devastated. Wastage and feces was here and there. Children couldn't go to school in rainy season. So, total 5 roads of 2000 feet have been constructed and the drainage system was being improved by World Vision Bangladesh.
Lutfa begum, Lamia's teacher stated, "Now the children of this area come to school regularly and Lamia never misses her school."
Shahana, a community leader expressed with contentment, "There are so many organizations working here but only World Vision works for the welfare of the children.
We really enjoy the happiness of the children when we distribute the gifts provided by the sponsors. Even we have been taught the importance of cleanliness of environment and how our children could be saved from different diseases by keeping our environment clean in the training organized by World Vision. We also monitor the cleanliness of this locality". 
Story and photo by Juliet Mondol, Communications officer, World Vision Bangladesh