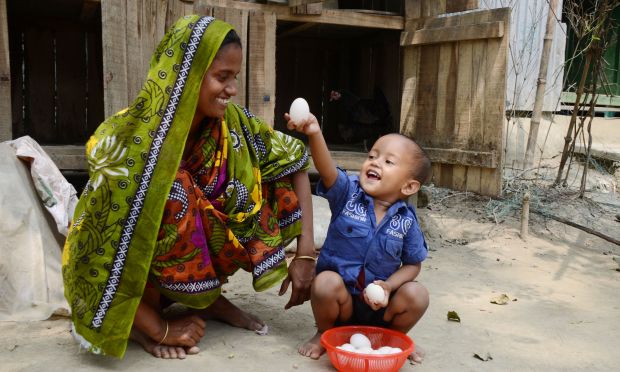 When World Vision discovered Mahfuza Begum's youngest son, Mahfuz, he was severely malnourished.
Visiting the northern village of Krishno Nagar in 2014, the organisation's survey team told the mother about the Growth Monitoring Programme (GMP), advising her to take him there immediately. The GMP is part of World Vision's PD/Hearth project, which encourages mothers and other caregivers to learn from the practices of others living locally with physically healthy children.
Mahfuza has two sons, ages eight and twelve months old. Her husband is a day labourer and his meagre earnings meant the family lived from hand to mouth.
Of her youngest son, Mahfuza says, "Before attending the programme, I didn't give him complementary food properly because I didn't know anything about it. Instead, I used to give him whatever we usually had. Sometimes, I gave him snacks, crisps, chocolates, cakes, biscuits… whatever he was crying for."
"In a GMP session, I was told that my son was suffering from severe malnutrition. He was only 6.5kg at eight months old. I became very worried about my child's health."
World Vision then selected Mahfuza as one of its PD/Hearth mothers, her younger son's appetite improving as she started feeding him with healthy food made with locally available ingredients.
"We had amazing results. My son is now 22 months old and has good health. World Vision talked to us about nutrition, the health of children and mothers and why babies and pregnant or lactating women often suffer from malnutrition."
"They told us that the healthiest foods are not expensive and poor people like me can produce nutritious food at home using simple techniques, not many inputs, and just a little work. I was in a dilemma at the beginning because I didn't have much land or a pond, but after finishing all the PD/Hearth sessions, I was more hopeful and confident."
Inspired by the advice given to the members of the Bhabki Economic Development Group, Mahfuza also decided to put into practice what she had learned about rearing chickens and cultivating vegetables at home.
"I never thought local breeds of poultry could give me so much if reared using improved practices. I learned about early separation of chicks from the mother, a better brooding coop, the hajol [improved hatching pot], and providing formulated feed for the chicks, as well as hygienic coops, vaccinations and treatment. I learned we could increase the production of local poultry two- or three-fold by adopting these practices," Mahfuza says.
The hajol is a new version of the traditional Bangladeshi hatching coop, with two small bowls at the front for easy access to food and water.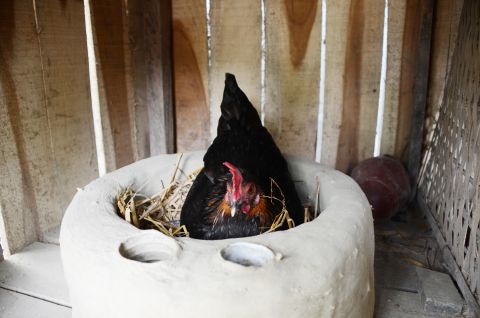 To boost her household income, Mahfuza remodelled her coop, giving the chickens more space, proper ventilation and enough light, while also adding facilities to clean it every day. As a result of this and the training, her chickens doubled their egg-laying cycles to five or six per year.
While some group members just listened about the hajol, but Mahfuza demonstrated its usefulness. News quickly spread around her village and now she trains other women about the coops, advising those pregnant and with young children to feed children with eggs at least twice a week.
Considering her performance, Mahfuza has also received advanced training in poultry rearing, doubling her production with better technology. In five months, she has sold chickens for the equivalent of nearly 200 US dollars and now has 60 chicks and 21 mature birds, four of which lay eggs. She spends only a small amount on feed and vaccinations and can give her growing toddler eggs and meat, helping him to be healthy and strong.
Meanwhile, the knowledge and skills Mahfuza learned through the homestead gardening training have helped her establish a small vegetable patch, so she can feed her family with nutritious produce and independently earn money from the sale of farming products.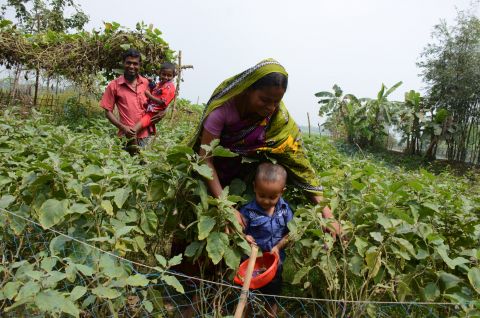 Mahfuza's dream is still hatching. She hopes to raise her number of laying hens to 10 to ensure the family's source of food and provide extra income, while also developing a poultry production group in the future.
"World Vision's Nobo Koli project has opened my eyes," she says. "Hopefully, my dream will become a reality soon."
Story and Photo by Gloria Das