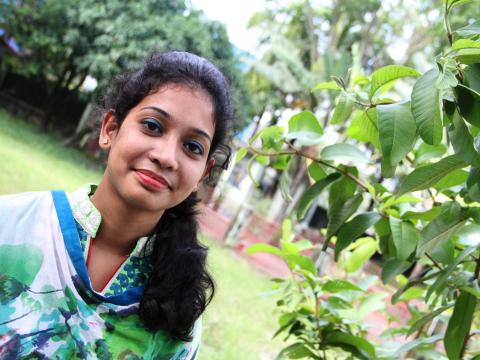 Lifeblood of success: Reflecting on World Vision's sponsorship
Monday, August 1, 2016
Unlike many in her struggling community, Rumpa, a former World Vision-sponsored child, finished high school and went to university - yet she aspires for more - to study abroad, see the world, and build her chosen career of journalism.
As the deputy news editor of an online magazine showcasing the views and rights of the oppressed and underprivileged, she has made a great start while at the University of Chittagong, one of Bangladesh's top public universities and founded in Porte Grande, as 16th-century Portuguese sailors dubbed the nation's commercial capital.
As well as freelance journalism, the 23-year-old loves debating and a year ago represented her university in the final of a national televised contest, triumphing over the Bangladesh University of Engineering and Technology from the capital, Dhaka.
Raised in a 10-strong family, the would-be professional journalist enjoyed support from World Vision's Patenga development project in Bangladesh's south, without which, she says, continuing her education would have been impossible.
"World Vision has played a great role in my life and helped me become the person I am now."
Now, as a graduate and master's degree student, Rumpa has found success and describes her story.
"Today, I'm going to tell you about myself and about how World Vision changed my life, as it's done for many children, by providing various kinds of support. World Vision has played a great role in my life and helped me become the person I am now.
"I joined the sponsorship programme in 2000. At that time, I was in grade three, while my father was a worker at a local steel mill factory and my mum was a housewife.
"I'm one of the youngest in my family, with eight siblings. Born in a poor family, however, none of my older siblings have moved far from home or been successful in education beyond grade ten. And when I was young, it was likely that I might not go to school.
"I saw my eldest three sisters continue studying by sharing one set of books. They studied in the same class. Even when they went to school, they shared that set of books. They must have each wanted their own schoolbag from our parents so much.
"Although he wanted to, it was really difficult for my father to meet the expenses of his eight children with his low income. Around that time, my older brother joined a private school [as a teacher]. But whatever [income] he's got, it's been too little to pay for his own expenses, as well as not enough for the family's expenses.
"He continued studying by tutoring students, but had to end his education after graduation because he had to share the family's responsibilities with my father. Then he stated teaching, but although it's an honourable job, is it really a way to make a decent living?
"After I joined the sponsorship programme, World Vision offered me educational items. Before, I had no way to buy books or other educational stuff. The programme gave me what I needed for my education, which made me more interested in learning.
"Now I'm studying in the communications and journalism department at the University of Chittagong and I'm going to take the final year exams in a few days. At the moment, I don't have any contact with World Vision in terms of assistance, but what I have is a sense of obligation. One thing I want to highlight is how World Vision's work is beneficial. There are many successful health and social development programmes raising awareness of the dowry system, smoking, drugs and child marriage.
"Supporting one child means supporting the whole family. For instance, my family has benefited a lot. I've created work opportunities for my older siblings by supporting them financially and been able to teach my younger sibling.
"Now I'm successful in my work. I want to be a role model and pass the message on to other children who are receiving support from World Vision that they should give credit for what World Vision has done for them.
"I hope many children will have similar success to what I've achieved. And I want to continue my career in journalism to the highest possible level. Thank you World Vision for coming into my life and into the lives of other families in my community. The promises you make come true, so there will always be hope for us."