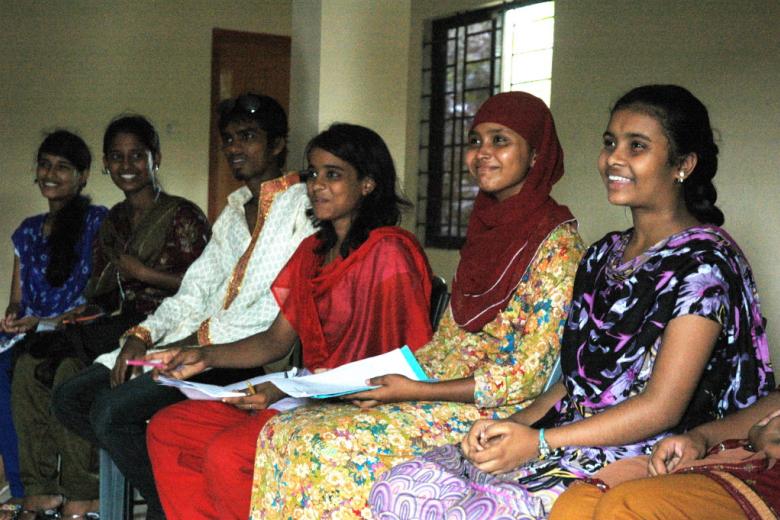 Marriage later, studies first
Saturday, March 9, 2013
Suborna (15) is studying in Grade 10 in Provakardi ASD School in Lokhair Char village in Muksudpur district under greater Khulna Division. She is also a child forum member of Muksudpur Area Development Programme (ADP) of World Vision Bangladesh. When she was eight years old she learned that her marriage had been fixed by her parents and she immediately protested. She wanted to study further and was not interested in getting married.
Suborna and her freinds became members of a Child Forum under Muksudpur ADP, facilitated by World Vision Bangladesh, so that they could be engaged with social and development works. Like theirs, a total of 580 child forum of World Vision Bangladesh sow seeds of change among the youths. Members of this forum meet regularly to learn different issues including adverse effects of early marriage. This collective learning boost up confidence among teenage children to fight child marriage, a practice that continues across the country, particularly in rural communities, despite a legal ban. 
Recently, Suborna's father came to the school. He had decided to take his daughter back home, as he arranged a partner for her. A groom with a plot of land of his own and with a little dowry was found. Suborna's wish of continuing her education was considered a luxury that could hardly be afforded. The family did not have the spare money for the additional expenses and reasoned that marriage was the better option.
"When my father told me I was going to be married off, I felt my life had been ruined. I visualized a life like that of my mother—marriage, lots of children. All dreams shattered," Suborna says. She immediately protested and informed her friends of Bandhan Child Forum. When the group learned about Suborna's situation, they immediately intervened and contacted her parents.
"We were sure we'd be able to prevent her wedding," says a confidence Raihan, the group's leader. "We talked to her parents at length and tried to make them understand what evils early marriage involves. Finally, we succeeded and Suborna came back to school," Raihan smiles. Suborna started staying with her uncle's house as there was no high school nearby her village. She also became involved with World Vision Bangladesh's child sponsorship programme and received educational support, including special coaching classes organised for the sponsored children. Her days were passing well, meanwhile she passed her primary school and admitted to Grade 6 as well as earned good grade in classes. 
"I can remember the day when our class teacher called me and gave me the good news - I stood first in the class," Suborna says. However, ill fate still follow her. Her parents once again showed firm interest for her marriage. But she managed to flee from her parents house to uncle's house. 
Back to her uncle's place, Suborna immediately contacted with Child Forum members and informed them about the incident. The child forum coordinator talked to Suborna's parents and explained the law, as well as other implications, related to child marriage. Finally, her parents gave their consent for their daughter to not get married before she turns 18. However, they also stated that they could no longer afford to pay any expenses related to Suborna. 
Finally Suborna's marriage was put on hold. 
To help her earn money, World Vision helped Suborna complete a seven-month Life Skills Based Education (LSBE) course. She is now working as a facilitator and coaching volunteer groups to work at the community level. She works on campaigns and teaches rural households about different social and development issues like health, water, sanitation and hygiene, women and child rights, dowries, women's empowerment and violence against women.. She is now getting Taka 800 [9.78 US dollars]per session and facilitates 16 sessions in a month. 
Besides her work Suborna was able to maintain good educational track records. "World Vision has made my parents to proud of me. I finally made my father understand that his daughters could be his support in old age. And I succeeded. My youngest two sisters are now also going to school," Suborna says smilingly.  I want to be a teacher in future because I like to enlighten my community people, she remarked . 
Suborna and her child forum friends also prevented many other underage marriages in her village. Grade 6 students Kamalika Barmon, Chaity Pal and Dipti Kar and Grade 7 student Hena Begum are some of the names who went back to school, thanks to Suborna's initiative.