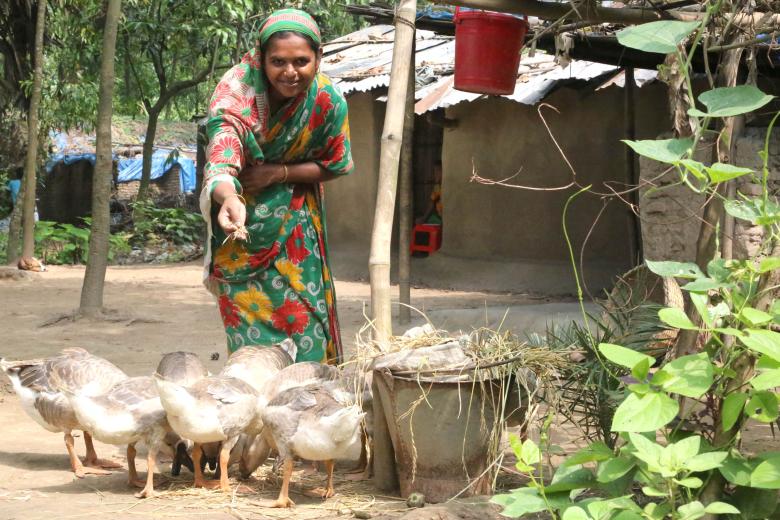 New livelihood skills bringing fortune for ultra-poor
Wednesday, May 31, 2017
Shilpi Begum, a 26-year-old woman in a small village at Mahisantosh of under the district of  Naogaon in northern part of Bangladesh , has become a role model in her community by turning the wheels of her fate through determination and hard work.
Three years ago, Shilpi and her husband Belal Uddin could hardly earn their daily bread and had to go to bed hungry most of the times.
From that poverty-stricken situation, her family now has a home to stay, savings in a bank, a few pairs of duck, chicken and some cows they rear as a commercial venture.
She said, "One day I heard about a training programme on livestock and horticulture arranged by World Vision Bangladesh. That time I was desperate to improve our financial condition anyhow and participated in the training, which ultimately was the turning point of my life".
"Initially, I started with some ducks, chicken, sheep and cattle farming with the help of local government livestock office and World Vision. Besides, I and my husband started farming on leased land," she continued.  
"That was the beginning of something even bigger," Shilpi Begum said in a happy note.
"From that income, we built a clay-made house on our own land and bought a little land in front of our house. Now we are planning to build a brick house as we have some savings in bank and insurance coverage." "Our yard now is full of ducks, chicken, sheep and cow."
Photo : Shilpi changed her fate by rearing ducks and cattle. 
 Like Shilpi, more than 800 ultra-poor families in Naogaon have changed their fortune and now have the ability to maintain a decent life and can afford education for their children.
Local UP chairman (people representative of local government) Md Fazlur Rahman said the government is making its best efforts to uplift the life of ultra-poor people and at the same time, the government faces many limitations too. In this situation, the NGOs are partnering with the government and the collaboration is making a difference in our area.
"Penetrating the spirit of self-development is the key thing to change anyone's life. That's what NGO is doing in collaboration with the government," Fazlur Rahman said.
About the project, Bimal Ruram, ADP manager of World Vision Dhamoirhat, said in line with the government's poverty eradication target, they are running a project to eradicate poverty.
"Under the project, we are working for livelihood and health nutrition development with the ultra-poor graduation approach. We generally provide training and technical support to the ultra poor people and set link with the local government office," he said.
Story and Photo by Devashish Ranjan Sarker