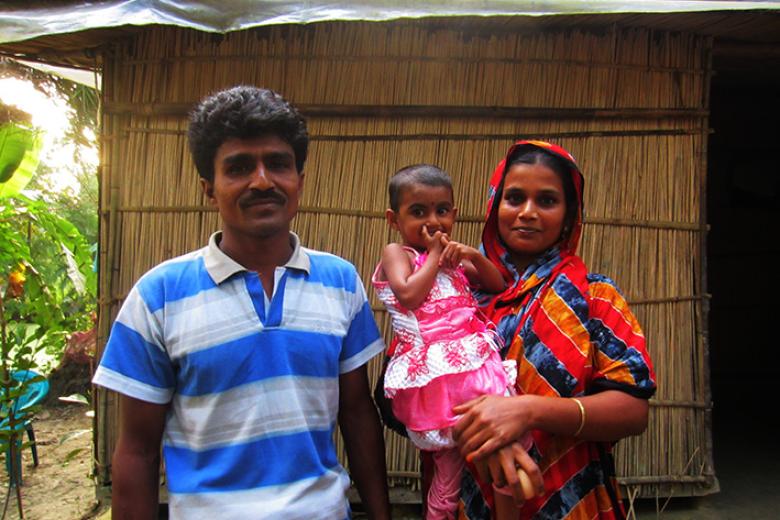 PD hearth program changing nutrition status in the community
Wednesday, March 12, 2014
"My child was very weak and thin. She was not eager to take any food except breastfeeding. I was very anxious of her health. Being poor, I cannot afford to buy expensive food for her. I heard about PD Hearth Nutrition center of World Vision Bangladesh and attend the sessions. I learned about nutrition and complementary foods. Also I learned that I can get good nutrients from the vegetables that grow in my area. I learned about preparing hodgepodge with appropriate ingredients that include the proper nutrients. My daughter ate the food and liked it!" said Irin Begum, 26.
World Vision Bangladesh organized PD Hearth nutrition sessions in her community at Kalkini in Madaripur. Like many others participants, Irin Begum attended the sessions with her severely malnourished 2-year-old baby girl, Dolon. At that time Dolon was only 5.4 kilogram.
Irin learned about nutrition and received health education. Dolon ate a mixure of foods at the hearth sessions. Now Dolon is 33-months-old and her weight is 10.2 kilogram. Like Dolon, malnourished children in the community are being evaluated with the goal of improving their health status.
Irin is a housewife and her husband is a day laborer who earns his livelihood with very hard work. They have 2 sons and 1 daughter. They did not know very much about health and hygiene practice earlier.
"I never cared about the hygiene in the family and thought that hygiene is a matter of rich and educated people. My children frequently became sick from dysentery, diarrhea, pneumonia fever, and colds. But after receiving the health education from the sessions, I become very conscious about my family hygiene and practice 6 health habits. Our family treatment costs have reduced too."
She received the honorable recognition as the best PD mother in her group.
Irin Begum feeding her chickens.
Considering the vulnerability, World Vision assisted the family with chickens and a shed. Irin is now raising poultry, and the eggs help add nutrients to her children's diet. Irin is happy to see her daughter's smiling face, especially because she is well fed and healthy.
Written by: Mahamudul hasan