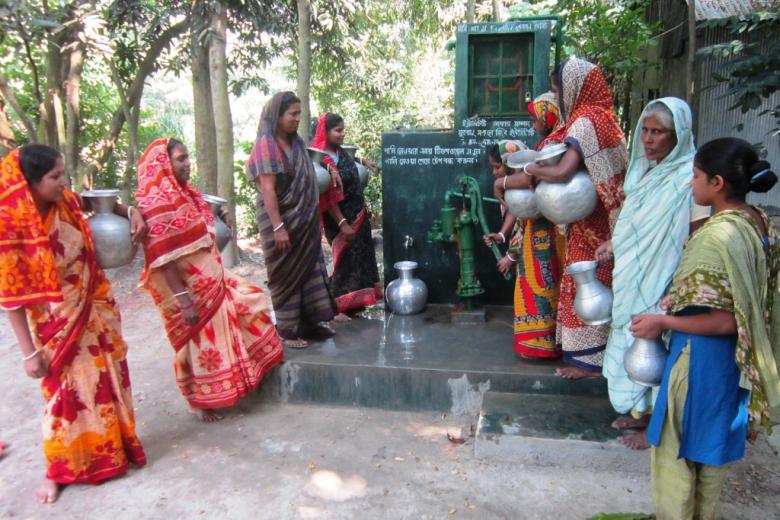 Benefiting from arsenic free water plants
Tuesday, August 18, 2015
A large number of people of Laksam Upazila in Comilla are benefiting from the arsenic free water plant set up by World Vision Bangladesh at three unions of the upazila over the last 7 years. Many arsenic patients get back their normal life after drinking water from these arsenic free water plants. A total of 51 Community Based Arsenic Removal Units (CBARUs) had been set up from 2009 to 2014 in three unions of the upazila by World Vision Bangladesh.
There is no effective medicinal treatment of arsenicosis. However, drinking arsenic free water can help cure a patient.
According to Bangladesh Arsenic Mitigation Water Supply Project (BAMWSP), there were 79.42% arsenic contaminated tube wells and at least 1791 arsenicosis patients in the upazila in 2012. The Department of Public Health Engineering (DPHE) said about 3303 people were suffering from arsenicosis (DPHE2009) in the upazila.
Abdus Salam, project officer (WATSAN), Laksam Area Development Programme of World Vision Bangladesh, said about 26,000 people from 5080 households are greatly benefiting from these plants. "We have formed a committee with the community members to further maintain the plants and they collect fund monthly from every household," he said.
Jainal Abedin, a farmer of Uttar Binui village, is now back to normal life after suffering from acute arsenicosis for four years, when he became virtually home stuck due to bleeding from his cracked feet.
He said, "My cracked feet bled profusely, I was seething in pain, couldn't go to work. But now I am fine since I have been taking water from an arsenic free water plant. "Previously I did not know what I was suffering from. I had known about my disease by attending a health education programme of Upazila Health Complex and NGOs."
"We appreciate the intervention of World Vision Bangladesh, which is currently working on safe water supply in three unions of the upazila and has set up plants for the community which maintains the plants."
Md Mujibor Rahman, Laksham Upazila Health and Family Planning Officer, said there were 4,422 patients in Upazila in 2011 and the number fell significantly in the three years. At this moment only 562 patients are suffering from Arcenicosis in this Upazila. "We have been providing health education to the villagers and here is an Arcenicosis Corner in the complex for treatment of the arsenic affected people," he said. He also informed that in 2012 the Department of Public Health Engineering marked tubewell red and green to identify whether they contained arsenic or not.
People are now very happy as they get fresh water from the plant, said Mamtazuddin, an elderly citizen, president of Ashawtola Purbo Para Community Based Arsenic Removal Unit. He said "we are collecting money to maintain it as we know we have to change reagent after 2 or three years."