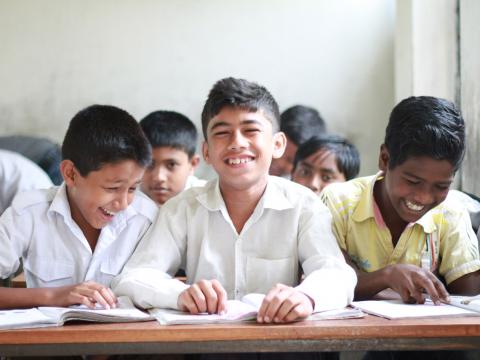 Reigniting a stalled education
Sunday, June 26, 2016
To see him going to school with his friends, Hemel, who belongs to a minority Muslim community in Bangladesh, seems like any other child. But until last year, the 10-year-old led a very different existence, enduring a daily 16-hour shift at a tea stall in the city of Rangpur in the north of the country.

Hemel's ordeal began when financial hardship forced his ageing parents to pull him out of school and put him to work.

"I was angry because I wanted to continue studying, but there was nothing I could do but accept my fate," he recalls. "I felt like I'd never achieve my dreams in life."

Then field workers with World Vision's Notun Jiboner Asha (Hope for New Life) project in Rangpur intervened, convincing his parents to let him stop working and resume his studies. Hemel then joined the World Vision-backed Kerbari Non-Formal Education Centre for child labourers.
Hemel (in the middle) is going to school with his classmates. 
Binte Rubaiya, who runs the centre, says, "Hemel paid attention and attended regularly. He was eager to study."

As a student at the centre, Hemel, who has one brother and two sisters, received material support for his education, as well as a plastic savings box to encourage him to put aside money for his studies.
Hemel is one of hundreds of child labourers helped by the Notun Jiboner Asha project since  2013.
Rubaiya continues, "Introducing the idea of saving money to schoolchildren not only lets them watch their money grow, but also teaches them an important life skill: responsibility. Learning this at an early age will literally pay off for the rest of a student's life.

Saving is already paying off for Hemel, who has bought a bicycle with his savings. The bike is useful for the whole family, being used to get to school and the market and by his younger brother, Arafat, who is learning to ride.

Hemel is one of hundreds of child labourers helped by the Notun Jiboner Asha project since October 2013. The project operates in five areas of Nilphamari district and eight wards within Rangpur.

To cut the number of children in hazardous work, the project has three major components:
A referral system used alongside the government and other organisations for children who drop out of primary school
Non-formal primary education centres close to children's places of work
Community-based systems to advocate for increased safety and protection for child labourers
Rubaiya says, "Education, which is essential in ensuring better opportunities for child workers, is a common thread throughout these programmes. The challenge is to make schooling economically viable, attractive and relevant for working children and their families."

Parents are more aware of child labour issues and are sending their children to school, with World Vision's project also providing support for vulnerable families to generate income that allows them to do so.
"I have a new life. I can laugh, play and read again."
Friends in Village Development Bangladesh (FIVDB) is a national organisation offering six years of primary schooling from the reception class, known as shishu, to class five. To complement nationally used textbooks, it has developed a shishu curriculum emphasising learning through games, group activities, being in nature and songs.

After three cycles of lessons following the FIVDB curriculum at the education centre, Hemel transferred to Carmichael Government Primary School. He says, "I have a new life. I can laugh, play and read again."

His head teacher, Nishat Nahar, say, "Hemel did very well in his entrance test, so we put him straight into grade four. Gradually, he's getting good results in his tests and is now ranked third in his class."

"He also possesses leadership qualities. He persuaded four other children, Apon, Nahid, Hanif and Sagor, to stop working and all of them have successfully completed their school entrance tests," she continues. "We're proud of them and wish them all the best for the future."

Hemel's parents now know the devastating impact of child labour and are happy to see their son's success.
"I will work hard so that my son can achieve his dream. We weren't educated, but now Hemel can read our important information and write letters. When I see him doing that, I can't hold back my tears," his mother Helena said. "I work in a student canteen. I cook for 70 students studying in nearby colleges and universities. These students are studying far from their families and I sometimes dream that one day my child will be like them."

Hemel's father also found work as a night guard in a canteen.