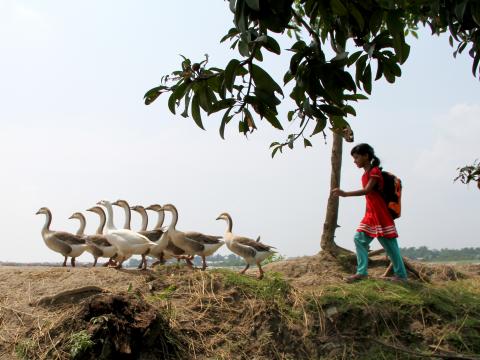 School journey: One girl's long walk
Thursday, September 3, 2015
By Shabir Hussain, Communications Officer, World Vision Bangladesh
Opi, age 9, is a grade 3 student in primary school. She grew up with her aunt Shahera - the only mother she knows. Shahera helps her prepare for school. They live in a remote village and need to collect rainwater for drinking.
Opi has a younger sister, named Soniya, who is only 8-months-old. Opi loves to play with her sister before starting her journey to the school.
Opi and Soniya's birth mother, Sumi, sends some money to Shahera to support the girls from time to time, but the small family mainly earns income from Shahera's tea stall.
The way to school is difficult but Opi never stops. During most of her walk, the sun shines down on her making her sweaty and tired.
Opi's village is next to the river. Every year many houses are lost due to river erosion.
There are many difficulties along the way. There are 3 rickety bamboo bridges to cross. Sometimes there is too much rain and the roads become slick with thick mud. "I feel afraid when I have to cross this rickety bamboo bridge," says Opi. Sometimes community people help her to cross the bridge but most of the time she has to cross it alone.
Opi has a friend named Raiju, 10, who lives one kilometre away. Sometimes they get to walk part of the way to school together. They are in the same class and they always play together during break time at school. Her teacher says Opi is a good student and she always does her homework.
Opi says, "In the future I want to be a doctor and start a clinic in our Banishanta area and serve people." At the end of the school day, it is getting dark. She is often scared of the sounds from animals and dogs. With the sunset, Opi doesn't linger on all those difficulties, but she continues her study once she arrives home, so she can achieve her dreams.