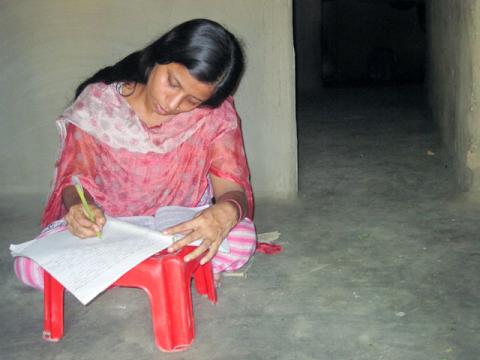 Shapla chooses education
Thursday, March 7, 2013
Shapla, 16, is a girl from a middle class Hindu family and is studying in Grade 10.
Shapla was only 15 when she received a so called excellent marriage proposal, getting married without dowry to a youth of neighbouring village. That offer convinced her parents as they were facing a challenge to find a suitable husband for her without dowry. Shapla's parents stopped their daughter's education and started arranging the wedding.
But Shapla was fortunate. She avoided marriage, something that she calls the "Cave of Death".
When Shapla was told she would have to drop-out of school, she became very frustrated. She told her parents several times that she was against the marriage but her parents did not listen to her. Seeing no other way, she enlisted the help of her friends who took a Life Skills Based Education course from World Vision Bangladesh.
Together, Shapla and her friends went to a community based organisation leader for consultation, who explained law against child marraige as well as the physical and mental effects of child marriage to her parents. Shapla also requested her parents once again to assit her for continueing her education. After a long argument and discussion, the parents and relatives finally relented. They called the groom's family and, in presence of the community based organisation leaders, decided to stop the marrige ceremony.
Though Shapla was able to stop her own child marriage, most other girls cannot. Bangladesh has one of the world's highest rates of early marriage. According to UNICEF figures, 66 percent of Bangladeshi girls marry before the age of 18. Approximately a third of women aged 20 to 24 were married by the age of 15. The study also says poverty, dowry, social traditions, fear of security etc. are the major root causes for hight rate of child marriage in the country. However the situation is gradually changing with various interventions from the government, civil society and international non-governmental organisations like World Vision. 
Shapla is grateful to World Vision Bangladesh for providing her with the opportunity to attend a life skills based education course, which has changed her life forever. She is dreaming of becoming a nurse and standing side by side with a husband who believes in enhancing his own family and society.