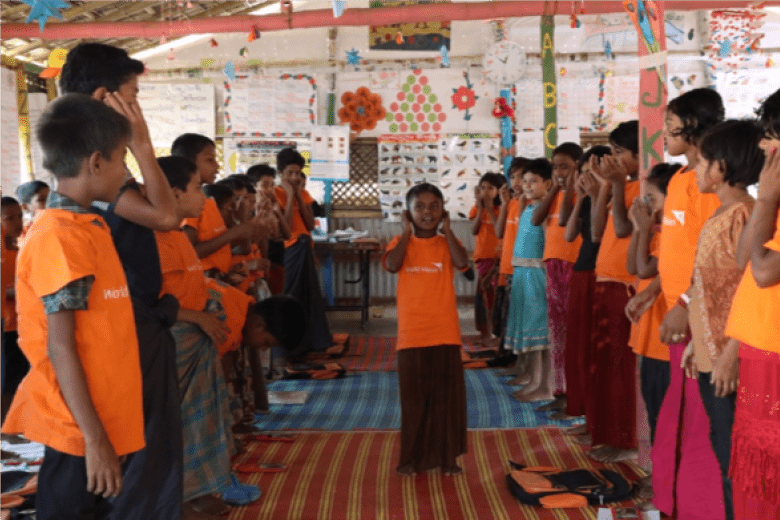 Something to smile and sing about
Tuesday, November 20, 2018
Neela, 10, is one of 450,000 Rohingya children living in the world's largest refugee camp located in Cox's Bazar, Bangladesh. Fleeing violence that erupted in Myanmar in August 2017, Neela and her mother, Hamida walked for 15 days to reach safety. Neela's father was killed on the journey. 
Adjusting to life in the refugee camp has been difficult. But Neela has reason to smile now; she has hope for a better future. Neela rarely misses a day at the child-friendly space near her home. It's one of 12 centres that World Vision runs, five of which are funded by the Government of Canada.
Here, children can play, sing and just be children again. Having a daily routine helps them regain a sense of normalcy and recover from the upheaval and violence they have endured. They learn basics like their ABCs, as well as hygiene and life skills, in a safe fun environment. And they get the psychosocial support they need to process their grief and loss.
The centres also provide protection for refugee children like Neela, who are vulnerable to abuses like trafficking and child labour in the camps. "I like going to the centre," says Neela. "Every morning my friend, Parvin, comes by and we go together."
Neela has attended the centre for a year now, and Hamida is pleased at her progress. "I encourage her to listen attentively," says Hamida, who hopes her daughter can one day resume her schooling having completed Grade 2 in Myanmar. "Neela's father is no more with us. I pray that an education might help her to survive well in future when I pass away."
                                                                                                                                                                       Story by: Himaloy Joseph Mree