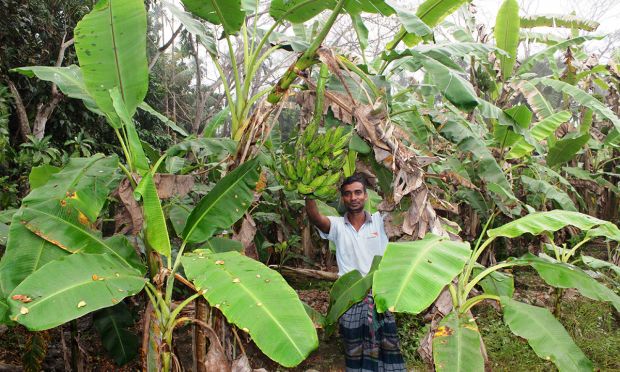 "My days of sorrows are over" says Apurba. "Now I am a successful farmer. I cultivate banana and variety of vegetable. People love to purchase vegetable from me." It is a story of Apurba, a 48-year-old farmer, who has changed his fate with the assistance of World Vision.
Apurba, is a member of World Vision Local Value Chain Development group. He has two children; 11–year old Polok and 18-year old Dristy and wife Mery, a 36-year-old homemaker. For livelihood, he cultivates some land which he took as lease from the local chairman. As a new and small farmer, he had to face many challenges like using traditional agriculture technology,not getting fair price and intervention of middleman for selling crops. So, Apurba's income was very low and it was difficult for him to provide nutritious food for his family members especially for the children.
World Vision enrolled his son, Polok in Sponsorship Program. Apurba's wife also joined the Development Group (DG) supported by World Vision five years ago.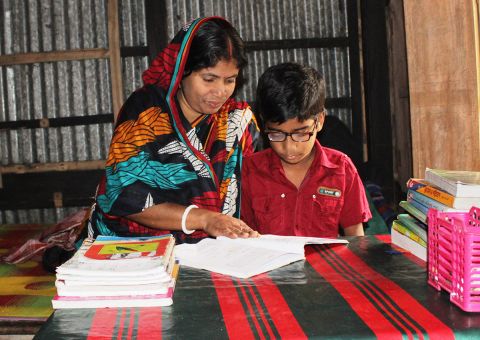 Photo: Attentive Polok (11) is enjoying study and Apurba's wife Mery (36) teaches her son .
In 2014, he was included as a beneficiary of World Vision's Income Generating Activities (IGA) program for small and marginalized community in the area and received twenty ducks and one heifer as IGA input support. Later, World Vision has also introduced local value chain development (LVCD) model with twenty small farmers of Apurba's community, where he got the opportunity to be part of that LVCD group. Training on identifying the climate–resilient crops and appropriate cultivating methods has been provided to the group. Moreover, the farmers have been provided collaboration and linkage support with the agriculture department of local government for necessary consultation, assistance and to develop direct communication to sell their crops at fair price.
It was the starting of Apurba and his family to change their fate. He has purchased some land by rearing those 20 ducks. He has vastly expanded his cultivation. People really like to purchase vegetable and seed from him. The farmers group (LVCD) can purchase seed and fertilizer together in minimum cost. The Agriculture Department of local government also helps them. They sell their crops directly without facing the hindrance from middleman. This has brought a lot of positive changes in the lives of those 20 farmers.
Apurba says, "I am the happiest father because I can provide necessary nutritious food and meet up the basic needs of my children. We appreciate WVB from bottom of our heart for its innovative initiative and vision for our betterment".
Story and Photo by Subash Joyder, Bhandaria ADP