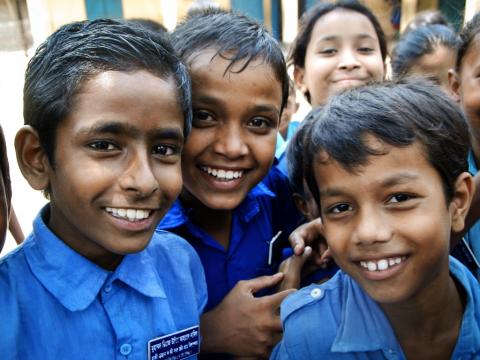 A Woman With Dreams
Monday, July 7, 2014
Doel*, is a 24-year-old loving mother of a 2-year-old girl. She is also a mother to hundreds of children at her school and is playing a prominent role in bringing change to her community as a teacher of Hazi Hasan Ali Primary School.
Doel's own journey towards education was not so smooth. Her elder brothers were struggling and working hard as child labourers to meet the family needs including her educational expenses. Thankfully the burden was partially relieved after her enrollment in World Vision's Sponsorship programme.

"I was a sponsored child of Cox's Bazaar area programme. During my study in primary and high school, I received 50 percent tuition fee from World Vision. It lessened the burden of my family," she says.

"World Vision supported me by supplying different educational materials like books, notebooks, khata, and school fees through higher secondary school."
Economic instability was not the only barrier to her studies 
Doel says, "People of my community had a very conservative mindset. Parents couldn't even think of sending their daughters for higher study even to high school. I was the only girl student who was admitted to high school," she adds, "It was a hard time for me but I did not stop my study."

The threat of early marriage almost ended her dream.

At 13, Doel was going to be married. She lost all hope for her future education. She was just in grade 8.

The common scenario of her community was to involve the boys in earning money and to have the girls married young while they are still in school. But Doel wanted to continue her study as she knew about the consequences of early marriage and saw the hardship of her friends who did so, but the pressure was too great.

She asked her family to seek consultancy from World Vision staff, who she describes as trustworthy well-wishers, and she received positive encouragement to continue her study from World Vision.

Finally her marriage was stopped.

She became more enthusiastic and determined, which led her to complete her schooling and gradation. In 2010 she completed a Certificate in Education and joined the same school, where she received the light of education for the first time, at Hazi Hasan Ali Primary School!

Doel says, "It is like a dream for me to become a teacher in my own school."

She is upholding the light of education to hundreds of girls in her community.

"Now people have the realization that women also can take higher study and be established. There is no university at Cox's Bazaar yet parents are interested to send their children to Chittagong for higher study as they are encouraged by seeing my successes in life. My students even used to say that they will follow my footstep and will complete their graduation," says Doel with pride.

She says, "My elder brothers did not have a chance but my sister and many girls are studying at college now. Our community is going to change soon."

What Doel is earning is supporting her husband and most of all she is saving for her daughter's future.

Doel, the woman with dreams keeps dreaming is sharing her dreams among the next generation.


* Name has been changed to hide identity as Doel's husband didn't want her identity to be shared.