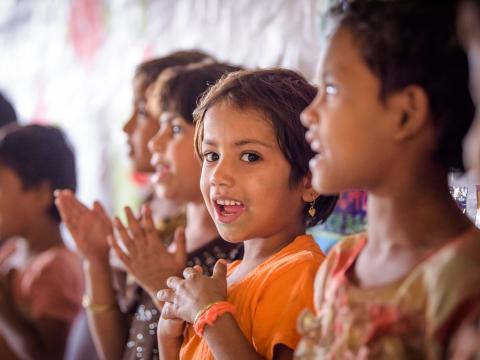 Myanmar Crisis Response
In August 2017, more than 700,000 people fled violence, persecution and gross human rights violations in northern Rakhine State in Myanmar. The speed and the volume of the crisis created an unprecedented protection crisis. World Vision is caring for up to 265,000 Rohingya people in 23 sub-camps and in neighbouring host communities. On the ground since the beginning of the crisis, World Vision is focused on providing life-sustaining support for refugees that includes food distribution, nutrition programmes, WASH services, child protection and more. We are also advocating for the protection and rights of all refugees, including their safe, voluntary and dignified repatriation to Myanmar.

WHAT IS THE CURRENT SITUATION?
Today, almost 1 million people are living in the world's largest refugee camp in Cox's Bazar, Bangladesh. World Vision is caring for up to 265,000 Rohingya people living across 23 refugee camps and host communities. We provide principled, timely protection and assistance that saves lives, alleviates suffering and respects the dignity of people, especially children.
HOW IS WORLD VISION HELPING?
World Vision is caring for Rohingya children and their families living across 23 refugee camps and host communities in Cox's Bazar, Bangladesh. We provide principled, timely protection and assistance that saves lives, alleviates suffering and respects the dignity of people, especially children. Our priority is protecting refugees, while advocating for their human rights. With the help of our donors and supporters, we have served more than 280,000 refugees through food distribution, malnutrition-prevention programmes, water and sanitation systems, child protection and more.
WHAT ARE LIVING CONDITIONS LIKE IN THE CAMPS NOW?
Despite tremendous progress in the camps, the Rohingya remain in an extremely precarious situation. For example, all refugees received basic emergency shelter kits to help them survive the 2018 monsoon season. This year, they need more robust, safer shelters. Around 860,000 refugees receive regular food packages from the World Food Programme, distributed by World Vision and other partners. But to be healthy, children and families need more diversified food in addition to the minimum rations of rice, lentils and oil. We need to expand our services to help ensure their nutrition and health.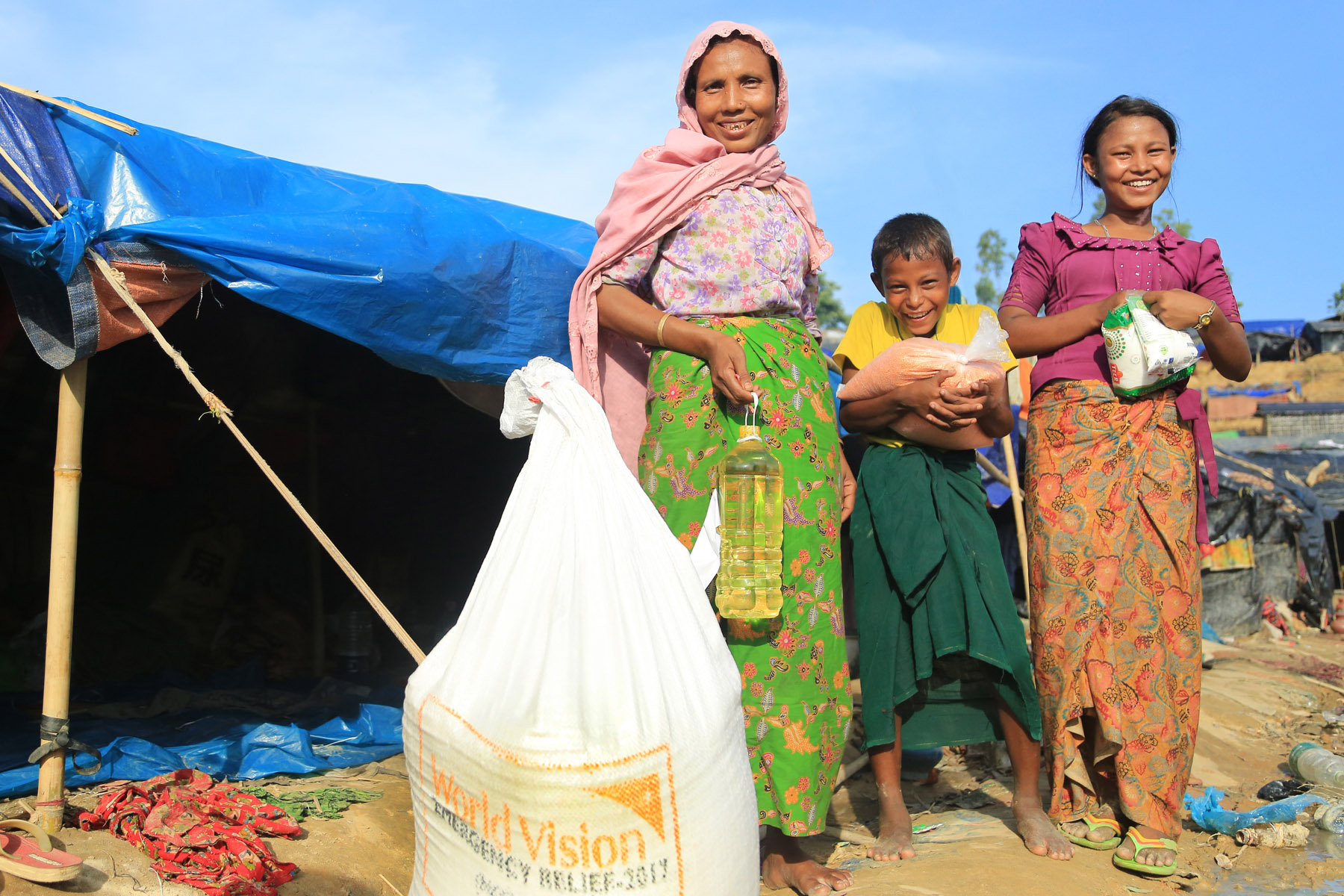 HOW ARE CHILDREN AFFECTED?
A reported 55 percent of refugees are children. They face critical issues, including physical violence, sexual violence and exploitation, child marriage, psychosocial distress and mental health concerns, child trafficking and abduction, child labour, and dangers and injuries. Many children are still recovering from the violence that they experience or witnessed as they fled Myanmar.
The power of education to break the cycle of poverty, violence and injustice has been well proven. However, approximately 50 percent of pre-primary and primary learners — as well as 97 percent of youth and adolescents — lack access to quality education or learning opportunities. Around 2,000 additional facilities are needed to improve access to learning activities for children 3-14 years.
World Vision has been running 12 child-friendly spaces for the past year. Some 1,300 children come to these centres each week to play and learn. This month, we will open the first of 21 learning centres for refugee adolescents and youth in partnership with UNICEF.
DO THE REFUGEES WANT TO RETURN TO MYANMAR?
Every day, families in the camps tell us how they long to return to their homes in Myanmar. But they also say they don't want to go back until their rights to citizenship, education, land ownership and other issues are recognized. They cannot go back until conditions in Myanmar are safe. In the meantime, children and youth need access to education in the camps. Their parents need income-generating opportunities that will help them regain some sense of normality, feed their families better and be less reliant on humanitarian aid.
WHAT ABOUT THE LOCAL COMMUNITY?
The Government of Bangladesh and the Bangladeshis people have welcomed and hosted almost 1 million refugees for the past 18 months. The socio-economic impact on Cox's Bazar—already one of Bangladesh's poorest districts—has been immense, pushing some families further into poverty. World Vision is working with local communities, providing long-term support, such as installing water supply systems.
WHAT IS WORLD VISION DOING THIS YEAR?
World Vision has prioritized seven interventions across 23 refugee camps, and in the surrounding host communities:
Child protection
Education
Gender-based violence prevention
Water, hygiene and sanitation promotion
Nutrition
Food security and livelihoods
Shelter and distribution of non-food items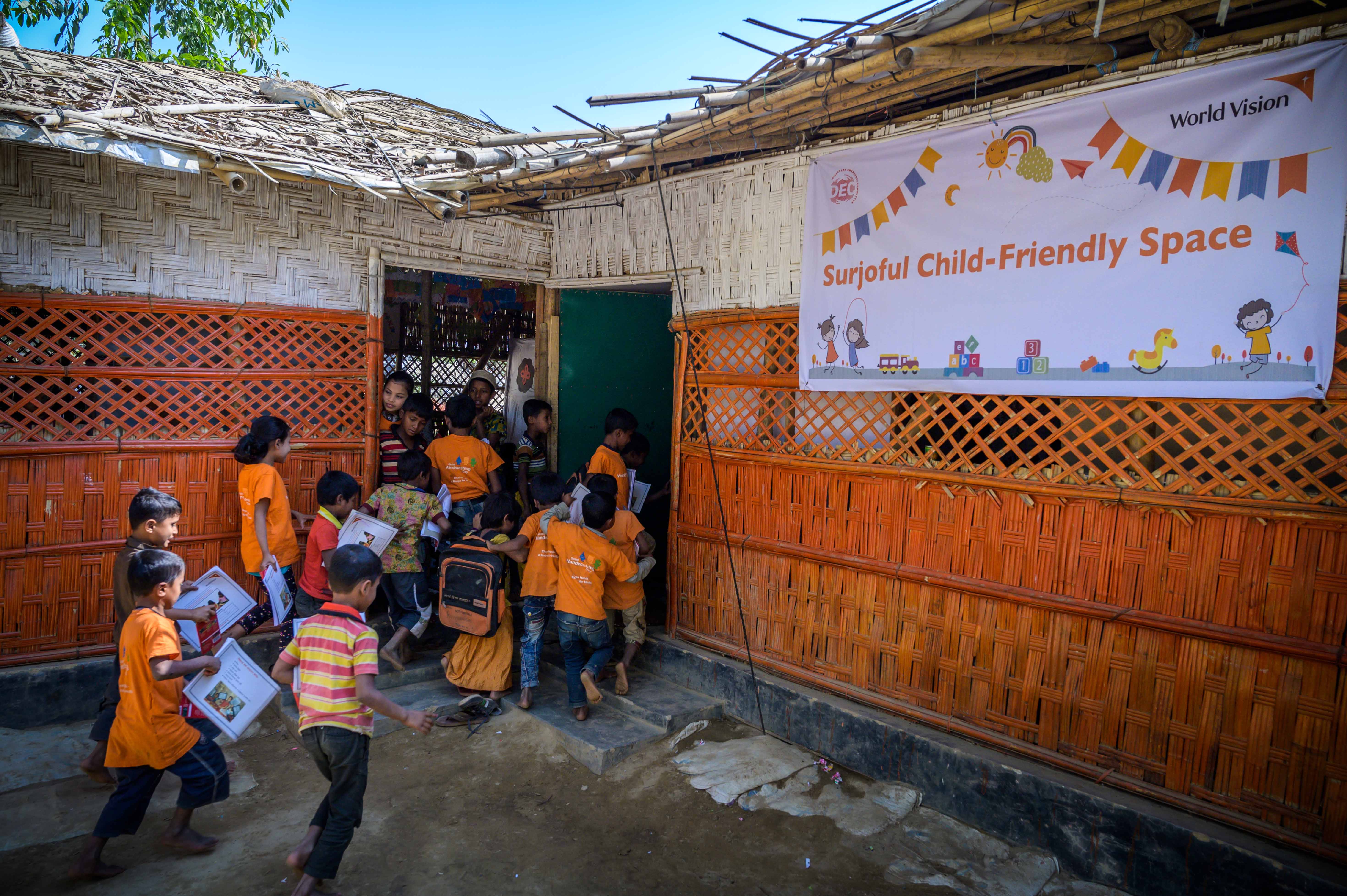 WHAT CAN I DO?
You can help by praying for those affected by this crisis and by supporting our 2019 humanitarian response plan. We will provide basics like food and water, as well as vocational training, especially for adolescents. We are raising USD18 million for these initiatives. Please consider donating through one of these World Vision offices.
World Vision has worked in Bangladesh since 1972, helping the most vulnerable children and families through both relief and development work.