Nobokoli (New Flower) is a Nutrition Initiative Programme launched in June 2013 to reduce malnutrition among children under five years, pregnant and lactating women in 18 Upazilas in seven districts, Nilphamari, Dinajpur, Rangpur, Joypurhat, Naogaon, Sherpur and Mymensingh. Funded by among others, Korea International Cooperation Agency (KOICA) and Ajinomoto Japan, the initiative aims to reach 340,253 vulnerable households with integrated intervention of health, nutrition, WASH and economic development.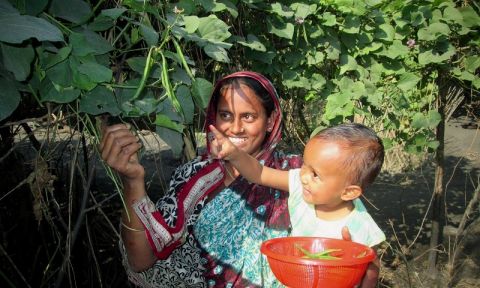 Meet Mafuja- Read about her Nobokoli programme success story
Key interventions

Health
Strengthening capacity of existing health structures: Nobokoli Programme is working with existing public health infrastructure, relevant health service providers and local government to build their capacity to improve quality and expand coverage of health and nutrition services to cover the targeted population in selected programme location.
Grow Monitoring and Promotion (GMP) : Under five children's weight and height is monitored by programme volunteers to diagnose malnutrition at an early stage. GMP sessions are conducted monthly at EPI center with support GoB Health and Family Planning staffs.
Pregnant Women Support Group (PWSG) : This model focuses on addressing malnutrition on pregnant mothers and ensuring that they adopt a healthy diet and health and nutrition interventions through an extensive volunteer network(PWSG) equipped to deliver health and nutrition messages at the community and household level.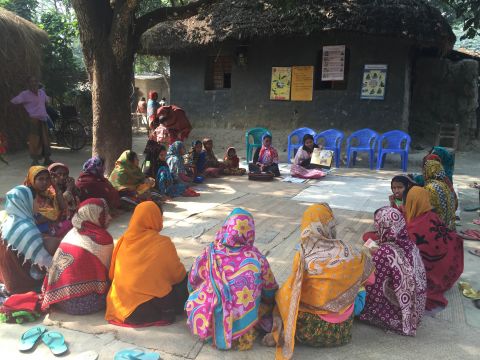 Community mothers receive health messages during a yard meeting.
Nutrition
Positive Deviance Hearth (PD/Hearth) : Positive Deviance Inquiry (PDI) is conducted in communities to identify the good health and nutrition practices in local poor families where children are well-nourished. This includes poor and ultra-poor households identified after a community-led wealth ranking exercise. These practices may include identifying local foods to improve the nutrient density, proactive child feeding techniques, and/or hygiene practices. These positive practices are then taught to caregivers of underweight children in an intensive 12 day behaviour change program (Hearth).
WASH
Community Lead Total Sanitation (CLTS): Programme promotes Community Led Total Sanitation (CLTS) as an approach for mobilizing communities to eliminate open defecation.
Economic Development
Ultra-Poor Graduation Approach: Ultra-poor households having pregnant women and malnourished 6-23 months children are identified through community participatory wealth ranking and census. The identified beneficiaries are supported through interventions such as asset transfer, farming/non-farming livelihood technical skills trainings, and savings identified as priorities in the programme locations to boost beneficiaries in to a trajectory of sustainable livelihood and better health. By providing nutrition-sensitive technical skills training, such as improved method of homestead gardening, indigenous chicken rearing and goat rearing, the programme is contributing to ensure household food security and to increase income.
Market Access: With the livelihood asset provided, beneficiaries will form producer groups to facilitate bulk purchase of inputs and bulk selling of products to overcome market barriers, achieve economies of scale and make profit. Poor producers have their capacity built through training to increase productivity, improve quality, understand market systems and build relationships with buyers.
Programme outline at a glance
Programme Name: Bangladesh Nutrition Initiative – NoboKoli
Programme Goal: Mothers and Children under 5 years living in vulnerable areas of selected ADPs are healthy and well nourished.
Programme Outcomes:

Improved maternal and child health care practices of caregivers of children under 5 years, pregnant and lactating women
Increased availability and access to quality health and nutrition services at the community
Increase food availability, food access and incomes of vulnerable households (HHs) in targeted programme areas
Created enabling environment to support families with PLW and children under 5 years

Programme Cycle: June 1, 2013 to December 30, 2017