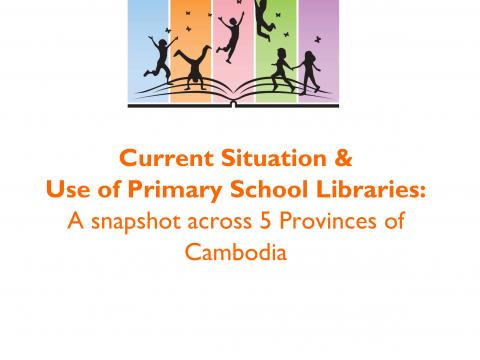 Current Situation & Use of Primary School Libraries
Thursday, March 10, 2016
In 2011, the Ministry of Education, Youth and Sports (MoEYS) in collaboration with several NGOs developed and adopted "Standards for Primary School Library" in order to ensure greater quality and effectiveness of library facilities for learning and teaching at the primary school level. Five years after its adoption, and after significant investment from government and civil society, it is timely to assess progress by observing the current situation and use of primary school libraries, and to investigate how the implementation of the MoEYS standard might improve reading skills and learning outcomes of primary school goers. Studies in other countries have shown strong connection between well-managed and resourced libraries, and increased reading frequency and learning outcomes of students. 
There is growing evidence nationally that many Cambodian students are not equipped with adequate reading skills, are not motivated to read, or cannot read. A 2012 national Early Grade Reading Assessment done showed that one third of grade 2 students could not read a single word. This has stirred concerns and action by MoEYS and Royal Government of Cambodia (RGC). So in September 2015, Cambodia's Prime Minister announced March 11 as National Reading Day, to "promote the habit of reading" among Cambodians. 
World Vision has a comprehensive approach to improve learning outcomes, and especially reading skills, in 650 primary schools in 9 provinces. Across a sample of 24 schools, this brief study is intended to provide a snapshot of library facilities and usage in selected schools in 11 districts across five provinces where World Vision has been working with citizens, schools, government, and partner NGOs to improve basic education.