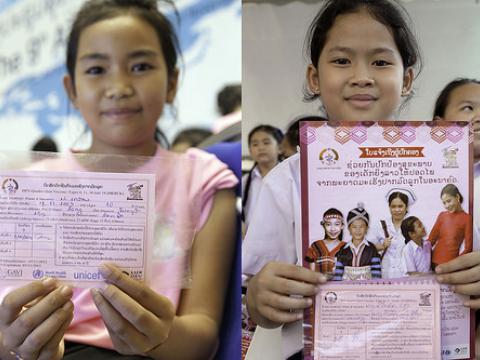 The immunisation card - a lifesaver
Wednesday, April 23, 2014
24 April 2014- Today marks the first day of World Immunisation Week. Immunisation is widely regarded as one of the most successful and cost-effective health interventions.

During World Immunisation Week, we look at pictures from around the world which showcase the story of the immunisation card, its evolution and importance in saving children's lives .The photos are courtesy of our partner, the GAVI Alliance.

Five African countries prepare to celebrate World Immunisation Week with the impending introduction of new vaccines. The GAVI Alliance is finalising plans to build on these successes with a major drive to increase access to vaccines and the impact of immunisation programmes by 2020.

Angola and the Republic of Congo plan to begin protecting their children against severe diarrhoea with the rotavirus vaccine while Tanzania expects to begin a demonstration project to protect girls from the leading cause of cervical cancer with the human papillomavirus vaccine. Next week, Madagascar plans to also introduce rotavirus vaccine and Togo expects to undertake a dual launch of rotavirus and pneumococcal conjugate vaccines.

GAVI CEO, Dr. Berkley, shares his reflections on World Immunisation Week.

The GAVI Alliance shares this news release in light of the launch of World Immunisation Week today.

Child Health Now is looking forward to partnering with the GAVI Alliance in the upcoming Global Week of Action which will run between the 1-8 May. The importance of immunisation for child and maternal health will be one of the areas highlighted during the week. Learn more about the Global Week of Action HERE.