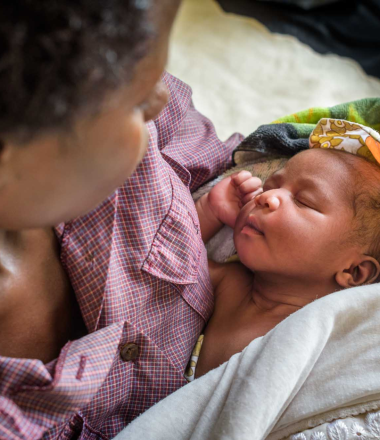 NUTRITION
Appropriate Breastfeeding
Appropriate Breastfeeding
More than 820,000 lives (87% of them infants under 6 months of age) would be saved annually with increased breastfeeding. Lancet Breastfeeding Series, 2016

Importance of Breastfeeding
Exclusive breastfeeding (a diet of breast milk only with no other liquids or solids, not even water) for the first six months of a child's life is one of the most important and cost-effective interventions to ensure a child's survival, healthy growth and development. It maximises a child's physical and mental potential by supporting the rapid growth and critical brain development that occurs from birth to two years of age. Appropriate breastfeeding has a high impact on reducing infant and child mortality. Babies not exclusively breastfed in the first six months of life have a 14 times higher risk of death than infants who are exclusively breastfed. The Lancet points out that not breastfeeding is associated with lower intelligence and economic losses of about $302 billion annually or 0.49% of world gross national income. 
Breast milk is free of charge and universally available, even in very resource-constrained settings, yet only 44% of babies globally are exclusively breastfed in the first six months, which falls far short of the 2030 global target of 70 per cent; and less than half of newborn babies are breastfed in the first hour of life. (FAO 2020)
Breastfeeding should start immediately (within the first hour of birth) for the infant to benefit from the mother's colostrum (first milk, or "immune milk", which is extra rich in carbohydrates, proteins and antibodies). Infants should be breastfed exclusively on demand until six months old and then continue breastfeeding until at least two years old (appropriate complementary and solid foods should be introduced at around six months of age in addition to breastmilk).

World Vision's Position
World Vision protects, promotes and supports exclusive breastfeeding from birth until six months of age and continued breastfeeding with appropriate complementary feeding until two years of age and beyond, as per WHO/UNICEF infant feeding recommendations. These are priority interventions essential to the well being of infants and young children, and include:
initiating breastfeeding during the first hour after delivery; 
exclusive breastfeeding for the first six months of life (no other liquids or solids, apart from medicines as directed by a doctor);
continued breastfeeding up to two years and beyond (with the introduction of appropriate complementary foods beginning at six months of age).
World Vision is a member of the Global Breastfeeding Collective and supports the WHO International Code of Marketing of Breast-milk Substitutes.
If breastfeeding did not already exist, someone who invented it today would deserve a dual Nobel Prize in medicine and economics. For while "breast is best" for lifelong health, it is also excellent economics. Breastfeeding is a child's first inoculation against death, disease, and poverty, but also their most enduring investment in physical, cognitive, and social capacity.
- Keith Hansen, Lancet 2016 Breastfeeding Series
How does World Vision protect, promote and support breastfeeding?
Appropriate Breastfeeding is one of the core interventions in World Vision's Health and Nutrition Sector Approach Strategy and is a vital component in all World Vision nutrition-related programmes. 

trains Community Health Workers
The Global Strategy for Infant and Young Child Feeding states that "even though it is a natural act, breastfeeding is also a learned behaviour. Virtually all mothers can breastfeed, provided they have accurate information and support within their families and communities, and from the healthcare system. They should also have access to skilled practical help from, for example, trained health workers, lay and peer counsellors, and certified lactation consultants, who can help to build mothers' confidence, improve feeding technique, and prevent or resolve breastfeeding problems."  
Key ways World Vision works to do this are by training Community Health Workers to support exclusive breastfeeding counselling for pregnant and lactating women and by promoting peer (parent/mother-to-mother) support groups. 
Soe Myat Thu learned about breastfeeding through World Vision's GAC-funded ENRICH project and is now a Lead Mother in a care group programme in her rural community in Myanmar
Christine learned about overcoming cultural barriers to early and exclusive breastfeeding from a community health worker in her community in Uganda and her twin daughters are thriving. World Vision's Australian-funded Northern Uganda Health and WASH Technical Project (NUREP) has trained and supported more than 300 community health workers locally known as "village doctors."
Florence joined a Mother Care Group in her community in Eastern Uganda and learned about the benefits of exclusive breastfeeding from a Lead Mother trained by World Vision's AIM Health Plus project, funded by Irish Aid. She sees the difference in her youngest child and wishes she could rewind history for her older children, who were not exclusively breastfed.
Learn more about World Vision's work with Community Health Workers

workS with FATHERS and grandmothers, as well as mothers
To achieve social behaviour change around infant and young child feeding, men have an important role to play. Oad has become a strong support to his wife, Lamphane, around exclusive breastfeeding their youngest child since joining a Community-Change (C-Change) group focussed on gender equality, established by the EU-funded Accelerating Health and Nutrition (AHAN) project, in their community in Lao PDR. "Joining the C-Change group is a new good step for our family," reports Lamphane.
My husband helps me more with the housework, collecting water, storing the wood [and] cooking. Now I have more time to breastfeed.
World Vision also recognizes the key role grandmothers play in caring for young children and advising and educating younger women on all aspects of family well-being. We are working to intentionally involve grandmothers and empower them in their traditional roles, so they can be more effective in improving the nutrition, health and development of their families and subsequent generations. Check out the Grandmother Guide, developed in collaboration with Judi Aubel of the Grandmother Project: Change Through Culture.
Properly trained grandmothers can play a positive leading role in households and in the community in promoting good nutritional practices and addressing malnourished children. World Vision credits the involvement of grandmothers in improving breastfeeding practices in their projects in Senegal and other countries. 

protects breastfeeding in fragile contexts and emergency settings
In fragile contexts or emergency settings, World Vision sets up breastfeeding corners or spaces, also called Women, Adolescent and Young Child Space, or WAYCS, to provide safe places for mothers and their children, together with counselling on breastfeeding. Read about a WAYCS site in Bangladesh providing mothers like Amena, Jahida, and Ambia with a safe space to breastfeed. Watch what World Vision Uganda is doing to respond to support South Sudanese refugee mothers. Read more ways World Vision supports infant and young child feeding in emergencies!
World Vision has developed guidance on using baby-friendly spaces or tents to protect and promote breastfeeding in challenging emergency situations. 
Learn about common myths about breastfeeding in emergency settings
Learn how World Vision worked to support and defend breastfeeding in the Philippines despite challenges after Typhoon Haiyan
World Vision's internal policy regarding the procurement and use of milk and milk products emphasizes that World Vision protects, promotes and supports breastfeeding and safe and appropriate infant and young child feeding practices and upholds the provisions of the International Code of Marketing of Breast Milk Substitutes. It also includes clear guidelines regarding the distribution of breast milk substitutes. 

Advocates for Infant and young child nutrition, including exclusive breastfeeding
World Vision actively supports the global goal of increasing the prevalence of exclusive breastfeeding to 70 per cent by 2030. Enabling more mothers to exclusively breastfeed will require significant changes in national policy as well as increased support by competent breastfeeding counsellors at the community level.
Exclusive breastfeeding practices in Cambodia have significantly improved over the last decade. However, current violations of legislation on marketing of breast milk substitutes threaten exclusive and continued breastfeeding practices and contribute to increased usage of infant formula as a substitute for breast milk. World Vision prepared an information brief presenting an overview of baby formula products available in Cambodian stores along with an analysis of the products' adherence to national legislation on infant and young child feeding (Sub-decree 133). In 2014, World Vision, along with Save the Children, Helen Keller International (HKI), UNICEF and WHO, released a Joint Statement on Breast-Milk Substitutes in Cambodia. In 2015, together with HKI, World Vision produced a research report on Breast-milk Substitute Promotion and Labeling Violations, along with a two-page summary brief. In 2022, World Vision published results of their study that aimed to identify and present some of the most prevalent forms of misleading and inappropriate marketing practices on social media and internet for the promotion of BMS in Cambodia: Under [Social Media] Influence: Digital Marketing of Breastmilk Substitutes in Cambodia.
World Vision has also advocated for compliance to the International Code of Marketing of Breast Milk Substitutes in the Philippines through their work on the Mother Baby Friendly Philippines project. An article was published Global Health: Science and Practice in January 2022 on the Mother-Baby Friendly Philippines project: Using Citizen Reporting to Improve Compliance to the International Code of Marketing of Breastmilk Substitutes.