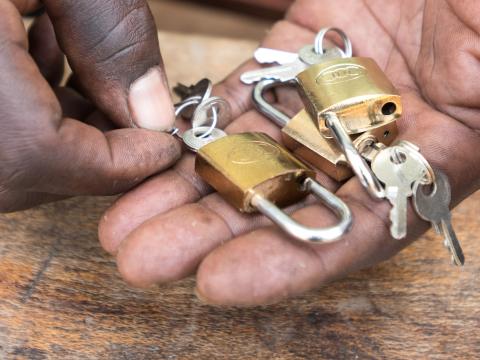 Business development and microfinance
Despite intensive initial training, over time the management capacity of local water committees often drops causing gaps in facilities maintenance, a decrease in available local funds for spare parts, and sometimes even leading to mismanagement of existing funds. Because of this reality, the development of viable business models and the utilisation of community and private sector entrepreneurship can be valuable drivers for sustainable WASH service provision. In places where service provision by state-managed utilities is either non-existent or failing to meet the need of populations, small- and medium-sized enterprises are reliable options to provide an alternative model for service delivery. Working with entrepreneurs, suppliers, business development specialists and water technicians for service provision ensures that viable, self-sustaining enterprises, when empowered and equipped, are able to fill gaps in services provision and provide potential customers with more accessible and affordable WASH materials, supplies and services. Private enterprises have demonstrated efficiency in supporting sustainable water supply systems operation and management, the construction of water points, the provision of spare parts for water facilities, assuring the availability of water treatment, sanitation and hygiene products on the local market, and more.
Since 2000, many countries have developed policies and strategies supporting the involvement of private sector and entrepreneurship in WASH services development, expansion and management. As a result, in urban settings enterprises and individuals are empowered, through capacity building and microfinance funding, to build, operate, maintain and assure day-to-day management of WASH facilities (including kiosks, water supply systems, and public sanitation facilities). In most cases customers are willing to pay for these services. In rural settings, the increasing demand of quality and sustainable WASH services calls for improved local private sector management. The required services include water for domestic uses, water for livestock and water for agriculture. The availability of water for production is igniting more livelihood and income generating activities led by women and young people. These activities include small-scale irrigated farming and vegetable gardening, which play key roles in household resilience and nutrition. Available water is used for irrigating small- to medium-sized plots, but also for domestic gardening. Garden produce is used by households to improve daily nutrition, and the rest is sold to the local market; increasing household income necessary for children' schooling, heath care, and improving household assets.
Learn more about Joseph, a dairy farmer from Zambia whose business now thrives because of access to WASH.
Contracting with government and local authorities over a sustained period of time allows for sustainable WASH services with accountability and responsibility. In some contexts, collaboration with World Vision subsidiary VisionFund International or other local microfinance institutions provides links to economic development and livelihoods through small loans to support WASH-related businesses. These small loans can also be solutions for potential customers to access WASH materials, products and services including drinking water systems and pumps, water treatment products, irrigation systems, sanitation systems, menstrual hygiene supplies, soap supplies, adaptive devices, and more.
Leadership
Our business development and microfinance in WASH work is lead by WASH Operations Technical Director Samuel Diarra. Learn more about Samuel and our global leadership on our WASH experts page.