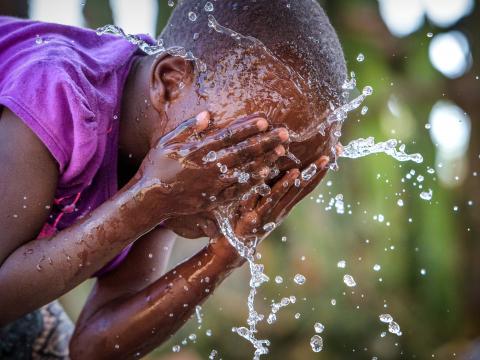 Household water quality
World Vision's goal is to provide safe water to communities where they are. In order to achieve this goal, World Vision conducts risk assessments to understand and avoid the risks that can affect water safety between the source and the point of use. Water quality is tested through analysis of major elements, trace elements and bacteriological tests of all constructed or rehabilitated water points. The World Health Organization's Guidelines for Drinking-water Quality are used as the main reference for quality compliance, unless the concerned country has its own water quality standards.
A focus on household water quality ensures that potable water, collected from a safe source, remains uncontaminated through the point of use. This can range from large centralised water treatment systems, to simplified household-level water treatment products like chlorine drops or the MSR SE200 Electrochlorinator. Families receive comprehensive training and support on diverse treatment products, device operation and maintenance, and on safe water transport, storage and handling in the home. Schools and health centres are also served with appropriate and diversified water filters, electro-chlorinators or similar technologies, coupled with appropriate capacity for operation and maintenance. World Vision also promotes water treatment techniques to mitigate geo-contaminants (like fluoride and arsenic) at community-level water treatment plants.
Microfinance plays a key role in the sustainability of household water quality. Small loans allow households to have access to covered buckets. Savings groups connected with private suppliers who facilitate the availability of tools, equipment and products. Communities and institutions' access to and capacity to produce and use fresh chlorine using electro-chlorinators is considered a promising emerging practice.
Leadership
Our household water quality work is lead by WASH Operations Technical Director Samuel Diarra. Learn more about Samuel and our global leadership on our WASH experts page.