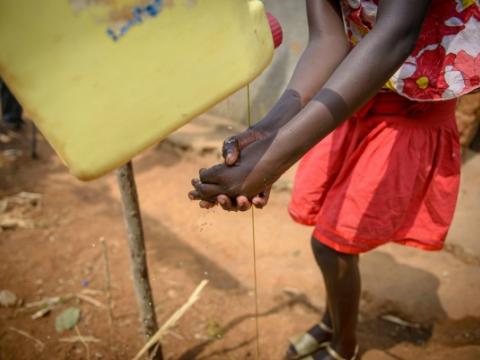 WASH: Hygiene behaviour change
Hygiene Behaviour Change
The Hygiene component of WASH has generally focused on awareness-raising and hygiene promotion and/or education using Information, Education and Communication (IEC) to improve people's knowledge--mostly through health messages.
"Sustainable Behaviour changes for sustainable health"
With the realization that improved knowledge and awareness alone often does not result in behaviour change, systematic efforts are now beginning to be made in the WASH sector to apply successful practices from the field of social and behavioural change (SBC) in order to achieve better and more sustainable behaviour change results and outcomes and the desired improved health impacts from the investment in WASH programming. 
Designing for Behaviour Change (DBC)
DBC is a relatively quick and simple to use, 5-step process that assists behaviour change agents to organize existing information and to gather new information needed to design effective behaviour change strategies. The DBC Framework can be used to design behaviour change strategies in any sector e.g. health, nutrition, food, security, water and sanitation, agriculture, natural resource management, civil society and gender equity and for any audience e.g. mothers, youth, farmers, pastoralists. 
Five Steps of DBC
Step 1: Formulation of a clear and unambiguous behaviour statement which includes the priority group
Step 2: Specification and description of the priority group 
Step 3: Formative research using BA survey (Barrier Analysis) to discover from a set of up to 12 common behavioural determinants, which are critical ones for selected behaviour and priority group, and the specific setting
Step 4: Formulation of the Bridges to Activities
Step 5: Formulation of Activities linked to the key determinant(s) through the Bridges Activities
World Vision also partners with Sesame Workshop, the non-profit organisation behind the popular children's programme, Sesame Street, to work with school children on hygiene behaviour change. Read more about this partnership and watch the video below. 
More about WASH approaches and interventions.
This website (www.behaviourchange.net) is a site with behaviour change resources from a variety of different organisations, designed to help practitioners: 
Know what behaviour change is about
Understand the factors that prevent or enable the adoption of positive behaviours
Address the identified barriers in the most effective way
Visit the website to learn more!