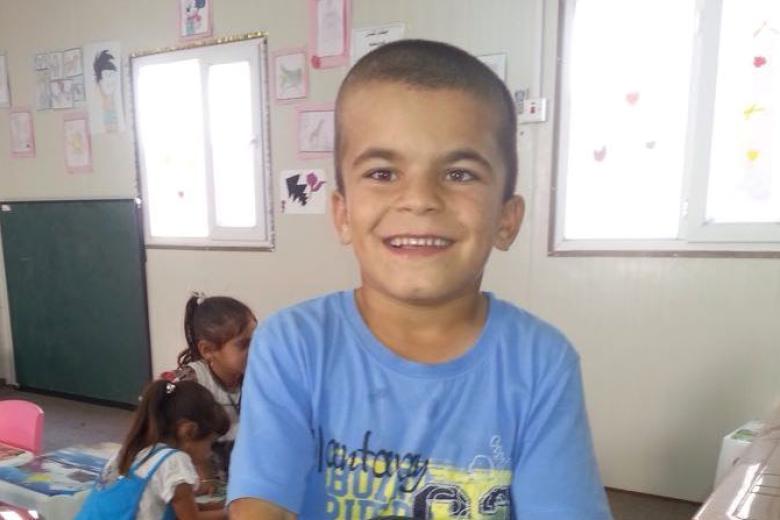 Child friendly learning space helps Asim find success
Monday, May 2, 2016
On 3rd August 2014, eight-year-old Asim fled his home in Shingal with his family.  Now more than a 18 months later he lives in a tent with his parents, stepmother, two sisters and three brothers in the Berseve One internally displaced peoples (IDP) camp in the Kurdistan Region of Iraq (KRI).
Asim had a history of being aggressive – fighting and beating his siblings and other children.   He was isolated and unwilling to talk or mix with anyone.  His mother felt this behaviour was due to her children's lack of access to education.  Since the conflict erupted the stress of the family's displacement affected the entire family and Asim became even more aggressive and isolated. 
In May 2015 Asim was registered at the World Vision Let Us Learn Child Friendly Learning Space (CFLS).   
Following his registration at the CFLS, staff noticed these behavioural issues – as well as his general untidiness. Asim did not care about hygiene or his appearance, other children avoided approaching him.
The CFLS staff discovered that Asim, had very low self-esteem and felt, in fact, that he was defective. When the CFLS facilitators tried to communicate with Asim and involve him in learning activities he preferred to stay away.
Asim's active attendance to the CFLS from the very beginning had led staff to assume that he liked the CFLS for education reasons – yet Asim had shown no appetite for learning.   It soon became clear that Asim attended the CFLS for a different reason.
Asim was seeking a safer and friendlier shelter than the tent he shared with his family in the IDP camp.
He was avoiding home as he did not feel safe there. 
Upon learning this, CFLS staff increased their attention towards Asim, encouraging him when he demonstrated positive behaviours and attitudes. Asim, who was looking for love and care, gradually came to enjoy the attention and kindness the CFLS staff showed him. This then impacted on his behaviour.
"I feel I have [a] home", Asim, 8 years old
Asim became more involved in games and activities at the space and began communicating with children and staff positively. He understood that by having a more constructive attitude people around him responded positively.
Asim also learned some basic skills he was unable to do before he registered at the CFLS – such as holding a pen and drawing. After a few months, Asim, encouraged by the staff who observed the changes in him day after day, came to the CFLS looking tidy and clean.
The Let Us Learn CFLS staff also consulted and engaged with Asim's parents and step-mother to identify ways to make Asim's home environment feel safer and more supportive.  Asim's mother chose to participate in the CFLS parenting training which includes topics of psychosocial support, positive discipline and stress management. 
Asim's mother occasionally comes to the CFLS to thank staff for being supportive. She believes her son has not only developed positive attitude at the CFLS but has become educated in other life skills
Today Asim is happy, feels appreciated for his positive attitude and has gained dignity and self-esteem. He has built very strong relationships with children and staff, is using critical thinking and behaving well. He spends plenty of time at the CFLS and participates in all activities – even if it is not his scheduled class time.
As Asim has stated to a CFLS staff member several times – "I feel I have (a) home".
Since February, 2015, the Let Us Learn project has helped more than 12,000 children and their families living in the IDP camps Bersive 1 and Bervise 2, Duhok, KRI.
Learn more about World Vision's education in emergencies project Let Us Learn.
Related links: